EDF energy says work continues with two firms from china on uk project despite reports on difficulties
France's EDF Energy says it is still working with its Chinese partners on the Hinkley Point nuclear project in the United Kingdom. Recent reports in the Daily Telegraph and Financial Times say there have problems been in reaching agreement on sharing investments, although EDF says it won't comment on specific newspaper reports.
Plans for EDF and its two Chinese partners to cooperate at another nuclear power plant, potentially Bradwell, have not being disturbed by the reported problems at Hinkley Point. According to the Daily Express, an agreement for Chinese investment in Bradwell could be announced during President Xi Jinping's state visit to the UK in October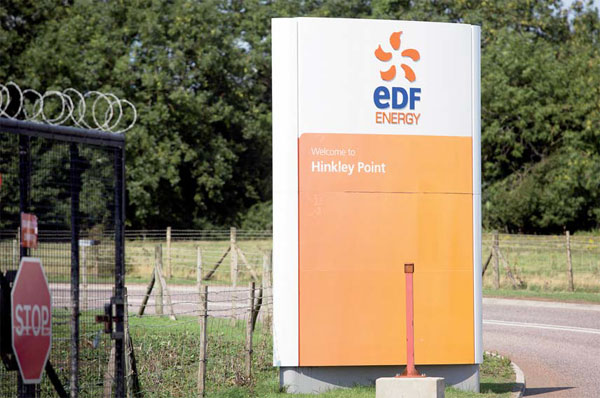 EDF Energy says it is still working with CGN and CNNC on the Hinkley Point nuclear project. Photos Provided to China Daily
If it gets the go-ahead, Bradwell could become the first nuclear power plant in a Western country to use Chinese indigenous technology, which would be a major boost for the internationalization of Chinese nuclear power technology. Hinkley Point would use French nuclear technology.
Hinkley Point, a 24.5 billion pound (37.6 billion euros) nuclear power plant in western England, is led by EDF Energy with a share of about 55 percent, and its two Chinese partners, China General Nuclear Power Group and China National Nuclear Corp, having a combined share of 30 percent. There has been no decision published about the remaining 15 percent.
France's Areva, which had planned to take a 15 percent stake, withdrew from the project because the company ran into financial difficulties.
As a part of the cooperation package, EDF is also to support its Chinese partners on a further nuclear power station using Chinese technology. Industry experts are speculating that it could be Bradwell nuclear power plant in Essex, since EDF owns land at Bradwell.
"The UK will benefit from long-standing cooperation (between EDF and its Chinese partners) and the extensive and proven capability of CGN and CNNC in the construction and operation of nuclear plants," EDF said in a statement.
"The EDF Group has been working as an industrial partner with CGN and CNNC for 30 years. This includes the joint venture between EDF Group and CGN to build two EPR reactors at Taishan," the statement says, referring to European pressurized reactors.
Mike Tynan, CEO of the Nuclear Advanced Manufacturing Research Center, says the economic benefit of having Chinese investment in the UK's nuclear sector is great.
"Large infrastructure schemes are very expensive and require long-term, reliable and committed investors who have the appetite for risk. The Chinese meet all of these requirements," Tynan says.
The Nuclear AMRC, led by the University of Sheffield and the University of Manchester, was established in 2009 to help the UK's nuclear industry firms improve their technology through research and development and expertise sharing.
"On a government-to-government basis, the UK and Chinese governments are keen to develop a long term economic partnership that drives value for both nations, thus further supporting the case for economic value," Tynan says.
"At the tactical level, partnerships between UK and Chinese companies will support UK advanced manufacturing and drive competitive pricing for reactor components and create a drive for innovation, leading to reduction of cost and schedule risk," he says.
In addition, there are also great technical advantages for Chinese cooperation in the UK's nuclear sector, as China is on track to become a leading proponent of civil nuclear technology, Tynan says.
"The Chinese government is moving at pace to develop civil nuclear technology and in doing so is creating leading edge skills, knowledge and experience of new technologies.
"In order for the UK to maintain civil nuclear capability, we need to embrace technology leaders, partner with them, learn with them and drive innovative thinking for our future energy needs. In this way we will sustain an economic transition to a low carbon energy future and provide security of supply in our domestic energy market," Tynan says.
For Hinkley Point, the industry is still waiting for a final decision on the investment details, which will confirm the starting date of the project.
Another key reason for the potential delay is the recent drop in energy prices, led by sharp fall in oil prices and a general reduction of commodity prices globally, which could lead to a rethinking of the UK's nuclear energy needs, says Andrew Shepherd, senior power and renewables analyst at BIM Research.
Because nuclear power plants take a decade to build, the risk that investors are exposed to is huge, so the government agrees a price with the investors known as the strike price, in which it undertakes to subsidize the investors if energy prices don't reach the strike price after the plant starts operating.
The strike price for Hinkley has been agreed at 92.50 pounds per megawatt hour by the previous Coalition government, but the new Conservative government may be rethinking, Shepherd says.
Another concern is that Hinkley is intended to have the Areva-designed European pressurized reactor technology, but to date there have not been any proven nuclear power stations with this technology because the two power plants already under construction using the EPR design are both running behind on schedule and cost, Shepherd says.
James McNamara, nuclear strategy & development director at Hayward Tyler, adds that the complexities of building a nuclear reactor could further contribute to the lengthy scale for the decision making and construction processes.
"The standard build time for a nuclear power plant in the UK has for decades been nominally set at 72 months or thereabouts, despite the fact that few have ever met that timescale. Although theoretically a straight build may be able to be completed quicker, hold points, inspections and approvals required by the nuclear regulatory authorities make a shorter timescale almost impossible," he says.
In addition, the global environment for nuclear power plants is becoming increasing strictly regulated, meaning that more time is required for nuclear power companies to adjust their needs to new requirements, especially after the Fukushima nuclear disaster in Japan.
"Nuclear developers are no doubt continually reassessing and incorporating new and updated requirements when planning their projects and quite rightly can only estimate and announce an anticipated commercial operation date from a formal start date, when their final investment decision, or equivalent is made," McNamara says.
Despite all these concerns, EDF confirmed its commitment to have the Chinese partners on board for Hinkley, according to EDF's Managing Director Jean-Bernard Levy, who made an announcement at a news conference in Paris in early September.
"The current roundtable for HPC involves EDF and Chinese partners. It does not mean that subsequently we will not open the project to other partners but in order to remain pragmatic and work quickly in the first phase, EDF and its Chinese partners will be the final investors at the time of the final investment decision," Levy said.
Tynan adds that the Hinkley Point project is very important to the Chinese side, as a way for it to prove its ability to invest in an international nuclear project.
"An investment in Hinkley Point would certainly send a major signal of Chinese intent to invest in international nuclear projects and signpost the intent of UK government to welcome Chinese investors. This would provide a positive incentive for investment," Tynan says.
However, any delay in the Hinkley Point scheme, or any difficulty in agreeing a suitable investment deal between EDF and Chinese investors, would increase nervousness around the commitment to drive forward with a new nuclear program in the UK, he says.
"The political aspect of the involvement of Chinese investors cannot be ignored. The UK government is keen to develop positive relations with China and therefore the deal for Hinkley Point is one between commercial companies, and also one with important government interests," Tynan says.
The overall deal for Hinkley Point is complex, with a number of key stakeholders. Long-term economic value from the Hinkley Point scheme is important for the UK, and so the significance of local content in the project, particularly for advanced manufacturing, cannot be underestimated, he says.
cecily.liu@chinadaily.com.cn