Little sister moves one step closer to calendar slam
For stretches of the 27th edition of Williams versus Williams, Venus gave Serena all she could handle.
And when Serena took control down the stretch to emerge with a 6-2, 1-6, 6-3 victory in a well-played US Open quarterfinal, allowing her to continue pursuing the first calendar-year grand slam in more than a quarter-century, a smiling Venus wrapped both arms around her little sister for a warm hug at the net and whispered, "So happy for you."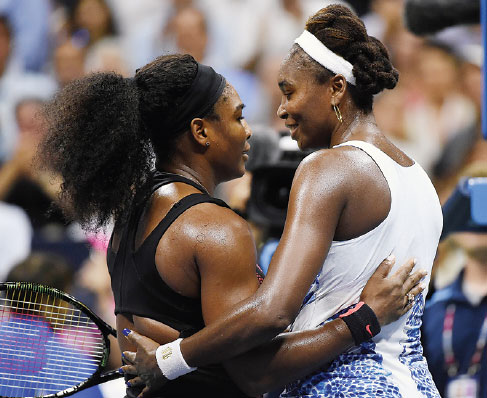 Serena Williams (left) hugs sister Venus after winning their US Open quarterfinal at the Billie Jean King National Tennis Center on Tuesday night in New York. Stan Honda / AFP
"Obviously we are very, very tough competitors on the court, but once the match is over, the second it's done, you know, we're sisters, we're roommates ... we're all that," Serena said later.
Serena called their unique sibling rivalry "the greatest story in tennis", and who would argue? A couple of kids taught by their dad on cement courts in Compton, California, making it all the way to the top.
With two more match wins, the No 1-ranked Serena would become the first player since Steffi Graf in 1988 to collect all four Grand Slam titles in a single season. Plus, if she can win what would be her fourth US Open in a row, and seventh overall, she would equal Graf with 22 major championships, the most in the professional era and second-most ever behind Margaret Court's 24.
"That would be huge, not just for me, but for my family, just for what it represents and how hard we have worked and where we come from. So it would be a moment for our family," said the 23rd-seeded Venus, who is 15 months older.
"But at the same time, if it doesn't happen it's not going to make or break you. We don't have anything to prove. She has nothing to prove. She's really the best ever."
Serena is 16-11 in their all-in-the-family matches, including 9-5 in majors and 3-2 at the US Open. And 14 years to the day after Venus beat Serena in the 2001 final at Flushing Meadows, they met again with so much at stake.
Well-known folks such as Donald Trump - who was booed when shown on video screens - Oprah Winfrey and Kim Kardashian dotted the teeming stands in Arthur Ashe Stadium, and the sellout crowd of 23,771 got its money's worth.
"They both played their best," said Serena's coach, Patrick Mouratoglou. "If they were feeling uncomfortable with playing each other they could not play at that level."
The sisters combined for 57 winners (Serena had 35) and only 37 unforced errors (Venus had 15). How close was it? Serena won 76 points, Venus 75.
Both pounded serves fast, very fast, each topping 120 mph. Both returned well, each managing to put into play at least one serve at more than 115 mph by the other.
Venus often attempted to end baseline exchanges quickly. Serena showed tremendous touch by using drop shots, one paired with a backhand passing winner, another with a perfectly curled lob.
When a reporter implied he wasn't sure whether Venus really wanted to beat Serena, the reply was drenched with incredulity.
"I tried," Venus replied. "Were you there?"
At 35, the oldest woman to enter the tournament, Venus had her own reasons for wanting to beat Serena, of course.
She has not reached the semifinals at any Grand Slam tournament since the 2010 US Open, and might have considered this her last, best chance to collect an eighth major singles championship of her own.
On Thursday, Serena faces unseeded Roberta Vinci of Italy, who reached her first Grand Slam semifinal at age 32 by outlasting Kristina Mladenovic 6-3, 5-7, 6-4.
The 43rd-ranked Vinci is playing in the 44th major tournament of her singles career, the second-most appearances by a woman before reaching her initial semifinal. Vinci is 0-4 against 33-year-old Serena.
"She's the favorite. Maybe she'll feel the pressure. Who knows? It all depends on her," Vinci said. "But I have nothing to lose."
In the men's quarterfinals, Novak Djokovic defeated Feliciano Lopez 6-1, 3-6, 6-3, 7-6 (2) to reach the semifinals, a 21st last-four spot in his past 22 Grand Slams.
The top seed and 2011 champion, playing in his 26th consecutive quarterfinal at the majors, claimed his 55th match win in New York.
Djokovic, this year's Australian Open and Wimbledon champion, will take a staggering 13-0 career record over defending champion Marin Cilic into their Friday semifinal. Cilic reached the semifinals with a 6-4, 6-4, 3-6, 6-7 (3), 6-4 win over France's Jo-Wilfried Tsonga.