Shanghai startup wins Bayer prize
Finance, other support provided for Product made by 3-D printers that can improve breathing
After years of living in Shanghai, where air pollution is a major issue, David Hartmann is confident demand will be high among city dwellers in China and across Asia for his product, the Pattern Breathe Mask.
Using 3-D printing technology, the mask is designed to filter air and give the wearer real-time feedback on their breathing.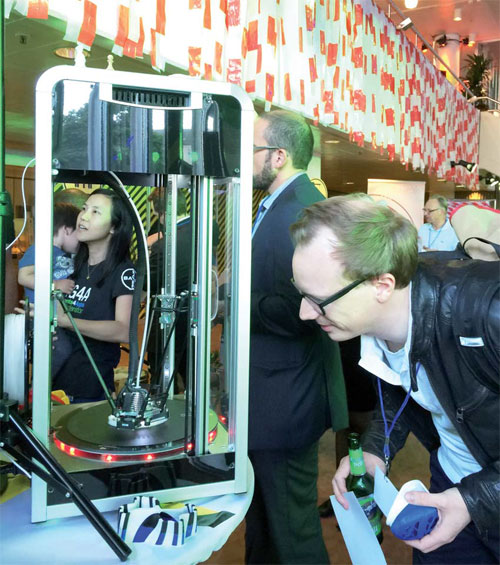 Sendinaden, a startup company from Shanghai, has won a Bayer prize for the innovative idea of a sensor-equipped mask made in part on a 3D printer to help urban residents breathe more easily. Fu Jing / China Daily
People in urban areas are "dreaming of a better life by changing the way they breathe", says Hartmann, who runs Shanghai startup Sendinaden with his wife, Vivian.
"We saw that breathing was on remote control in the body, and that if you could get people to breathe more deeply, more slowly, then you'd decrease stress and increase health."
Sendinaden was a recent winner in the Grants4Apps accelerator program, organized by German life sciences giant Bayer, which provides support in developing and commercializing innovative health products.
The startup received 50,000 euros ($57,500) in funding, and for the next three months Hartmann and his workers will be based at the headquarters of Bayer's pharmaceuticals division in Berlin.
"We're very happy that Bayer can financially support us to further improve our (product), which could improve health and quality of life," says Hartmann, who has worked for Bayer for several years and still holds a position at its office in Shanghai.
Buyers will be able to create the Pattern Breathe Mask using a 3-D printer, he explains, while the company will provide the electrical sensors that fit inside and monitor the wearer's breathing depth and frequency. This data can then be transferred to smart devices.
"By getting the consumer to 3-D print everything, we can customize a solution for each person and, at the same time, reduce costs," he adds. "That way, we can teach consumers how to breathe properly, and if the frequency is too slow or too fast the devices will send alarm signals. Then they can adjust (their breathing)."
The mask is expected to hit markets in January.
Hartmann is a staunch believer in 3-D technology bringing "revolutionary changes" to people's lives and businesses, and even published a novel on the subject, Complexity Is Free, in May.
The Sendinaden staff that has headed to Berlin includes Chinese, French and German technicians, and has been hailed as an example of how curiosity can help bring Chinese innovation to the world stage.
The Grants4Apps program has been running since 2013. This year, 215 groups from 48 countries submitted project ideas. China contributed 22 submissions, the second highest number.
Proposed projects ranged from healthy living gadgets to mobile applications for physicians and patients, such as an app to help manage diabetes.
After an evaluation process, Bayer announced in July five winning startups with products designed by scientists from the United States, Estonia, China, Germany and Canada.
"With our program, we create an environment in which to advance digital innovation in healthcare," says Johannes Schubmehl, a spokesman for Bayer. "We look forward to supporting the five digital health startups to further develop their projects.
"The support is not only financial. We offer workspace, which is essential for startups, and most importantly we offer our leading expertise to turn their ideas into reality," Schuubmehl says.
fujing@chinadaily.com.cn