Help for Ebola-hit nations affirmed
Foreign Minister returns from trip to african nations, making renewed commitment to partnership
China's Foreign Minister Wang Yi arrived in Beijing on Aug 11 after a three-day official visit to Sierra Leone, Liberia and Guinea with additional commitments to help the three African nations hardest hit by Ebola.
Wang says the three nations have already shifted their focus to "post-Ebola" reconstruction, in which China can play a role, Xinhua News Service reported.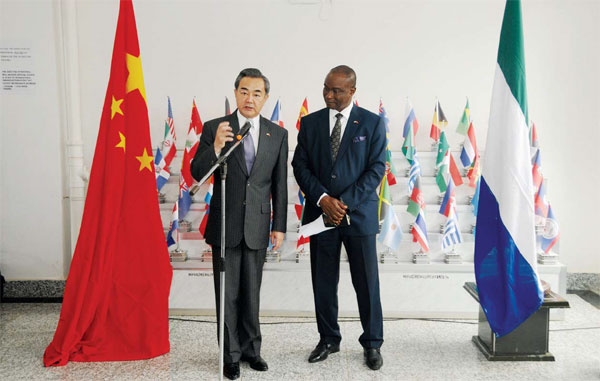 Chinese Foreign Minister Wang Yi with Sierra Leone Foreign Affairs Minister Samura Kamara on Aug 9 in Freetown. Lin Xiaowei / Xinhua
"It's important to find a development path suitable for each nation's conditions. Two development bottlenecks for these three nations are infrastructure and talent scarcity," he says. "China has a strong will to offer any possible help with our advantages. And we have achieved some fruits in these fields."
Consistent efforts are still needed to achieve real economic independence for African countries, and they should establish a full industrial system to strengthen their development capacity, according to Wang.
"China is willing to help Africa transfer its rich natural energies to economic power through industrial cooperation. We can start from deep processing local resources and then complete the industrial system step by step," he says. "China in this regard has the full capacity and conditions to become the most ideal reliable partner for Africa. The three countries also said industrialization is the future direction of development and welcome China's industry transfers."
Wang also says China will use the Forum on China Africa Cooperation summit later this year as an opportunity to consolidate this bilateral relationship.
Speaking of China's help with Liberia's fight against Ebola, Wang hailed the two countries' cooperation and their deepened friendship.
"In our joint battle against Ebola, we have cooperated closely with each other. We have come to cherish our relationship more dearly and both sides have realized that the other is a reliable and important partner," he told reporters.
Following the outbreak of the fatal epidemic, China was the first country to send a team of trained health workers to Liberia, together with much needed personal protective equipment, Xinhua reported.
Their arrival helped accelerate the response process that led to a drastic reduction in the death rate of healthcare workers that were exposed to the virus through contact with patients.
During his visit, Wang also discussed with his hosts ways to boost Liberia's economic and social reconstruction.
In Sino-Liberian cooperation, the path of development chosen by Liberia should first and foremost be respected and the "strategic needs of Liberia's national development" should be thoroughly considered, he said.
China will rapidly help Liberia increase its independent development capacity, benefiting and eventually trickling down to the entire population, Wang pledged.
He reiterated China's strategy for developing ties with African countries, saying China's "approach of pursuing interest and upholding justice means the country will not attach any political conditions or impose any requests on the African people."
On future cooperation, Wang says China will focus on helping Liberia's infrastructure development and human capacity - the two issues that hamper the country's development.
Wang also says China will encourage more businesses to take a more active part in Liberia's resource development and transfer high-quality industrial capacity to the country.
"Only by doing so can we make sure that the country will realize its sustained and long-term development," said Wang.
Xinhua contributed to this story.
lilianxing@chinadaily.com.cn