Triumph of snooker nanny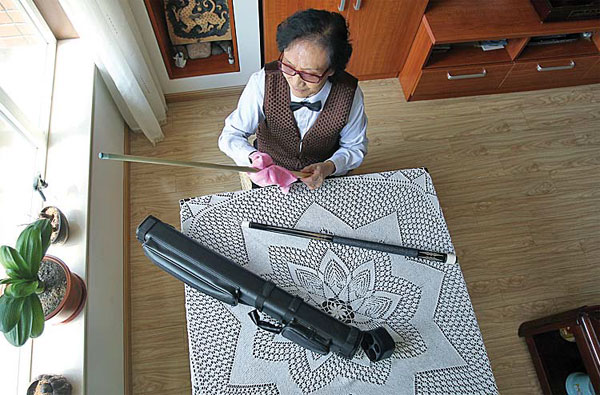 Feng Huageng has had a cue made especially for her.
You are never too old to start learning, but when Feng Huageng, 79, took up snooker eight years ago, her hands were far more adept at holding a ping pong racket. In fact it was through that table game that she become acquainted with the other.
Ping pong, which Feng practiced every day, is played at a frenetic pace that can exact a heavy toll on hands and arms, so she decided to seek light relief in the gentler game of snooker.
Since then, Feng, who likes to dress in formal suits, has become an habitue of Biaoku Billiard Club in Changchun, Jilin province, and has been nicknamed Snooker Nanny.
Within two years of beginning to learn the game she was winning competitions big and small in the province.
She practices six days a week, she says, taking Sunday off. She eventually started her own billiard club began giving free lessons, and now has six students, aged from 19 to 70.
"I like to think anyone, especially senior citizens, can step out of their home and go and do some kind of sport that makes them feel young," she says.