Elderly, poor suffer most as heat wave toll hits 780
Pakistan's financial capital of Karachi is wilting in a four-day heat wave that has killed more than 780 people, a health charity said on Wednesday, as the government declared a holiday in the city to encourage people to stay home and cool off.
The heat wave has coincided with severe electricity outages. Many of the deaths among the elderly and poor in the southern city were caused by dehydration.
"The heat wave death toll has reached close to the 800 mark in the last four days," Anwar Kazmi, a senior official of the private charity, the Edhi Foundation, said.
"We are planning to expand the Edhi morgue to cope with a situation like this in the future."
The charity runs a network of ambulances, clinics and morgues to bridge the gaps in an overburdened and poorly funded public health system in the city of 20 million people.
Government health officials did not return calls seeking comment.
Many of Karachi's wealthy have generators to run air conditioners or are gathering in upscale, air-conditioned malls to beat the heat, which reached 44 C over the weekend.
Rain was no-show
A sea breeze slightly cooled parts of the city on Wednesday, but rains predicted by weather officials did not arrive.
Dr Seemi Jamali, medical superintendent of Karachi's state-run Jinnah Medical Centre, said the facility has received more than 200 people who were either dead or died of heatstroke at the hospital.
Dr Salma Qausar, senior director of the smaller Abbasi Shaheed Hospital, confirmed that 102 people have died of heat-related conditions, including dehydration at his hospital, and more than 1,000 are being treated.
A total of 446 others died at other hospitals, including Liaquat National Hospital, Civil Hospital, National Institute of Cardiology, Ziauddin Hospital and others.
The doctors said most of the patients were brought to the hospital unconscious, suffering from high fever, while others told the medics that they collapsed suddenly during the sizzling day and suffered extreme breathing problems.
Health Secretary Saeed Mangnejo said most of the heatstroke victims came from the poor neighborhoods of the city, living in small houses and working in the sun as daily-wage laborers.
He said a state of emergency has been imposed at all hospitals in the city.
Prime Minister Nawaz Sharif has issued directives to the National Disaster Management Authority to take actions to deal with the situation in Karachi, the capital of the country's southern Sindh province.
The NDMA chairman has asked the Karachi corps commander to assist the authority in this regard.
Pakistan's Meteorological Department said the heat wave was likely to subside on Wednesday afternoon as pre-monsoon rain is expected to enter the province, which will result in downpours in Karachi and other cities.
Reuters - Xinhua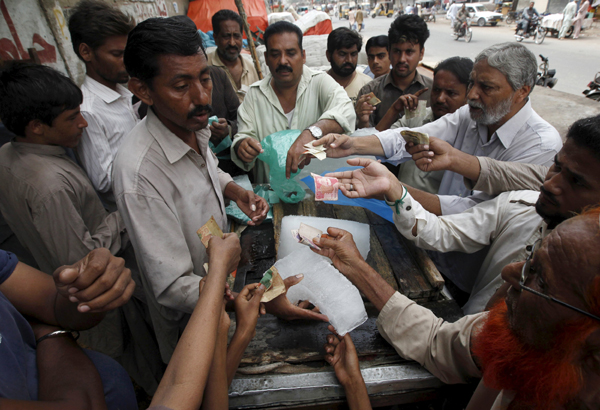 People buy ice blocks from a vendor along a road during the heat wave in Karachi, Pakistan, on Wednesday. Akhtar Soomroi / Reuters