Rowan Atkinson sells McLaren F1
Mr Bean star sells the supercar he crashed twice for undisclosed amount after putting it on market for £8 million with specialist car dealer Taylor and Crawley
Rowan Atkinson has made a bumper profit after selling the £8 million supercar he famously crashed twice in one of the UK's biggest ever deals.
The comic actor bought his beloved McLaren F1 in 1997 for around £540,000. In 2011, after crashing into a hedge in Oxfordshire, his insurance company was handed a £910,000 repair bill in what is thought to be the biggest-ever single car insurance claim.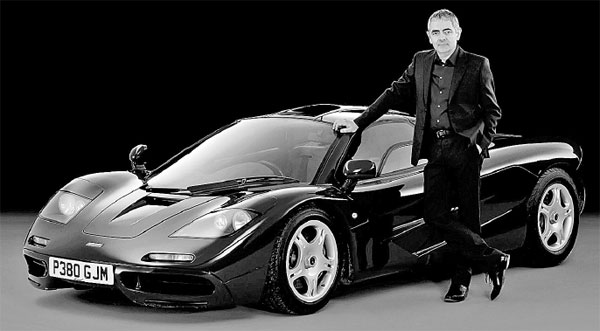 Rowan Atkinson recently sold his McLaren F1 for £8 million. Provided to China Daily
But while most cars would lose value when they are involved in a serious crash, the 240mph F1 is different and its price has continued to rise.
Atkinson recently decided it was time to sell up after the F1 became "a thing of value". He put it on the market for £8 million with specialist car dealer Taylor and Crawley.
David Clark, boss of Taylor and Crawley and the man who originally sold Atkinson the F1, confirmed he has sold the car.
He said: "Everyone is very pleased with the sale. There was interest from around the world and it has gone to a British buyer who will drive it like Rowan did.
"It is one of the biggest ever deals in the UK. Rowan is pleased, but also maybe a bit sad as he did 40,000 miles in it."
Mr Clark, a former sales and marketing director at McLaren, would not reveal the price paid by the unknown Briton.
But it is unlikely to be too far short of the £8 million asking price because the F1 is regarded as the most collectable car of the past 45 years.
At £8 million, it would rank it among the highest prices ever paid in the UK for a car, with only 1960s Ferraris tending to sell for more.
The F1 is powered by a 6.1-litre V12 engine developing a 627bhp - a record for a non-super or turbocharged car. It will do 0-62mph in 3.2 seconds and accelerate all the way to 241mph.
Mr Clark previously said he was not sure anyone had enjoyed 41,000 miles in a McLaren F1 - "apart from a couple of miles where different things happened" - as much as Rowan Atkinson.
The Mr Bean star would use the F1 as his daily car and also took it on a number of tours for McLaren owners.
And when Atkinson originally took delivery of the F1, he strapped his two young children into their child seats and took them on a five-hour drive to Cornwall for a holiday.
Mr Clark added that he is "one of the most enthusiastic car owners I have ever met, a real user of his cars and that is how he derives his enjoyment: from the using, not the having".