Chinese movie producer Hanhai gets Hollywood access with deal
Hanhai Studio, a Chinese movie production and technology incubator with a California presence, has found an American partner that it believes can ease its access to the US market.
Hanhai, based in Beijing, signed a cooperation agreement with Los Angeles-based Monarex Hollywood Corp, the creator of the acclaimed Mysterious China series, on Wednesday in Burbank, California.
Hanhai chose Monarex because of Monarex's track record with China-related productions.
"Monarex has won a lot of international awards, with its President Chris D. Nebe producing the award-winning documentary series Mysterious China. Nebe's angle is so different (in) that he takes a Western perspective to look at China," said Hanhai COO Kelly Zhang.
"Western audiences, after viewing his documentary, they found it was what they could understand from their perspective and their culture," said Zhang. "For both China and Hollywood-based creative production companies, he is the perfect niche angle for us to work with and really a connector between the US and China."
Zhang said Monarex understands Chinese culture and has access to American public TV.
"A lot of our partners in China told us that they can produce their own videos, but have no idea whether their productions would be accepted by US public TV stations because they have no access or connection with the latter, or the TV stations just simply refuse to distribute these works because they regard it as propaganda," she said.
"Because of his reputation, once Nebe produces or participates in the documentary-making, he has access to many public TV stations, which is one of the major benefits to those Chinese enterprises," Zhang stressed.
"He used to make documentaries for Jiangsu province and Yangzhou city, and after they were shown in local public TV stations in the US, he received letters from audiences complimenting his great works, as these documentaries help them better know China," Zhang said.
Nebe also has produced other China-related documentaries, such as Diaoyu Islands: The Truth, which went viral online shortly after it was released.
"I hate what the American mainstream is doing and hate the US geopolitical situation with China," said Nebe. "Moreover, Chinese culture is a wise culture, but we Westerners have completely forgotten the great contribution Chinese culture has given to the West."
Nebe suggested that Hanhai should have theatrical distributors because "here in the US there is always this kind of resistance to present anything positive about China".
"It is really wise for Dalian Wanda to buy the world's second-largest theater chain AMC," unlike European companies, who want a place in Hollywood, always coming to buy studios," said Nebe. "That is a very smart investment because the theaters can control the market and collect cash, while film distributors have to wait for the theaters to pay them."
Also, different from most Hollywood studios, which Nebe said have no idea about China but hire and leave a few Chinese actors in the Chinese-version film but cut them out in the domestic market, Monarex will address both Chinese and Western mentalities.
"We are considered the first Chinese enterprise in the US connecting Chinese creative production and technology companies with Hollywood, because I have always believed in doing things as a pioneer and dare to try before others," said Wang Hanguang, chairman of Hanhai Investment Group. As an innovation platform provider established just this year in January, Hanhai Studio's goal is to create a "zero-distance platform" between Hollywood and Chinese creative companies through training, incubation and investment, said Wang.
"We think there is a need for a lot of Chinese enterprises who want to come to the US and have documentaries produced by US or Hollywood producers and will introduce these enterprises to the Hollywood audience," said Zhang, the COO.
Hong Xiao in New York contributed to this story.
xiaolixin@chinadaily.com.cn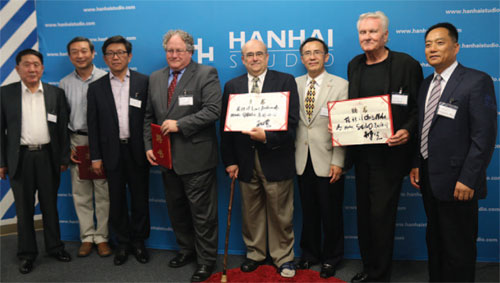 Hanhai Studio, the first Hollywood-Chinese movie production and technology incubator in the US, honors four senior advisers on Wednesday in Burbank, California. Provided to China Daily