Lenovo aims to sell 120m smartphones and tablets
CEO plans marketing, social media campaigns to lure young customers
Lenovo Group Ltd has targeted global sales of 120 million smartphones and tablets this financial year with the help of marketing and social media campaigns to lure young customers.
Yang Yuanqing, chairman and chief executive of Lenovo, outlined the Beijing-based company's plans on April 27 when he said the world's largest personal computer maker will expand its services to combat rivals such as Apple Inc and Xiaomi Corp.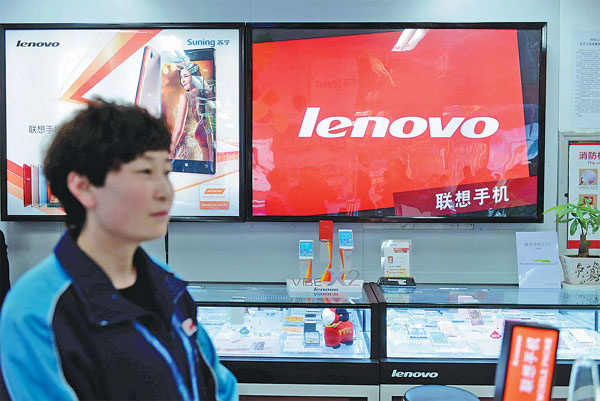 Lenovo's mobile phones on sale in Qingdao, Shandong province. The company is creating a customer registration program similar to the Apple ID service to increase user loyalty. Yu Fanping / For China Daily
"The Internet era is changing the way people consume electronics," said Yang. "Either transform ourselves or get disrupted and lose."
Lenovo will push a customer registration program similar to the Apple ID service to increase user loyalty. "The Internet firms hijacked our customers through self-developed security applications," Yang said. " We need to invite Lenovo phone users to join our community and persuade customers to register with Lenovo ID."
The company has 42 percent of its registered users in North America but is less active in its home market of China.
Yang also urged senior managers to open social networking accounts to promote Lenovo products. "We used to underestimate the power of social networks, but now it is a very critical marketing channel for us," said Yang, who became an active microblogger recently.
Its smartphone shipments will account for more than 100 million units this financial year, which started in April, says Liu Jun, senior vice-president in charge of mobile business at Lenovo.
"Although having slightly fewer shipments than the third quarter of last year, Lenovo continued to dominate the sub-$150 handset market in China in the fourth quarter," says James Yan, an analyst from IDC, the United States-based market research company, specializing in technology.
One major headache for Lenovo has been the cut in subsidies from telecom carriers. This has "greatly damaged" the company's smartphone sales. Contract phone sales in China account for roughly a quarter of Lenovo's total shipments, while more than half of the handsets were via carriers two years ago.
Overseas sales in smartphones should hit 60 million units this financial year, more than the Chinese market, says Liu. This would be the first time that overseas sales have edged ahead of the home market, Liu says.
Motorola Mobility, Lenovo's high-end handset subsidiary it acquired from Google Inc a year ago, will help the company attract customers in developed markets such as the United States and Western Europe. Lenovo-branded devices will focus on developed Asian markets such as India and Malaysia.
The company is planning an array of new product launches later this year. Liu says Lenovo hopes to bring Motorola's star smartwatch, Moto 360, to the Chinese mainland in October, part of the plan to make the Motorola business profitable again.
"Xiaomi will find it very difficult to penetrate overseas markets -especially in India - because it does not have a strong fan base than in China," Liu says, adding that Lenovo is planning to sell more than 10 million devices in India this year.
Lenovo is the world's third-largest smartphone maker behind major rivals Apple and Samsung Electronics Co, according to research firm IDC.
gaoyuan@chinadaily.com.cn