Hamilton and Co gearing up
Ever-improving Mercedes still the F1 team to beat as new season begins in Melbourne
Even before the first engine roars, Formula One can be heard drawing breath this week in readiness for another year of drama, intrigue and trepidation, starting with the final countdown to the season-opening Australian Grand Prix in Melbourne.
Fewer cars, teams and drivers will start this year's championship, one of the sport's stars is mysteriously missing amid a spiral of conspiracy theories and, as financial constraints continue to eat into its balance sheets, the global juggernaut that mixes glamor, danger and speed faces an uncertain future.
At 84, the sport's enduring commercial ringmaster Bernie Ecclestone is also under scrutiny.
After the tumultuous events in 2014 when Briton Lewis Hamilton seized his second drivers world championship from the clutches of Mercedes teammate and season-long rival Nico Rosberg in a brutal finale in Abu Dhabi, a similar on-track sporting scenario is in prospect.
Preseason testing has suggested Mercedes has improved both chassis and engine and extended its advantage. 'Catch me if you can' is the most-used headline in the run-up to Sunday's race at Albert Park where Rosberg was flawless and triumphant a year ago, setting up a duel with Hamilton that shifted through the gears as the story unfolded.
Off-circuit, however, it is a different matter.
The grid has been reduced following the demise of the Caterham team and only 20 cars are expected to line up for the opening race, or 18 if the Manor-Marrusia outfit, a rehashed team built from the remnants of last year's Marussia, fails to qualify.
Safety procedures have been revised and, hopefully, improved after the accident in Japan that left Frenchman Jules Bianchi fighting for his life after aquaplaning into a collision with a recovery vehicle in teeming rain.
Talent and race-craft
His survival battle overshadowed the final races in which Hamilton stole away from Rosberg with a demonstration of talent and race-craft that has installed him as favorite to land a third title.
At 30, and single again if the latest reports of his on-off-on-off relationship with singer Nicole Scherzinger are true, he may have the maturity and motivation to dominate.
After their moves from Ferrari to McLaren and Red Bull to Ferrari respectively, Fernando Alonso and Sebastian Vettel are expected to emerge as contenders with their new teams as each seeks more glory to revive a once spectacular career.
Spaniard Alonso won two titles with Renault before his unrewarded toil with the scarlet scuderia while Vettel, a four-time champion at Red Bull, was outperformed last year by Australian Daniel Ricciardo.
The evidence of preseason testing in Spain suggested Ferrari has a much-improved engine but Alonso's accident at the Circuit de Catalunya in February - in which he suffered severe concussion - has cast a shadow over engine supplier Honda's return to McLaren 23 years after its golden run of successes in the late 1980s and early 1990s.
He is set to be replaced by reserve Kevin Magnussen alongside Briton Jenson Button for the opener.
It remains to be seen if Vettel can live up to the legacy of his hero and mentor, Ferrari's last German leader, Michael Schumacher, who won five of his seven titles with the Italians.
Youngest ever driver
Schumacher, like Bianchi and Alonso, is another victim of head injuries.
His skiing accident in France in December 2013, removed him from public view as an active sportsman and, after months in a coma, he has recovered but remains in need of intense medical attention and support.
Images of Senna, as seen in many recent advertisements, memories of Schumacher and Bianchi, and the latest shock of seeing Alonso's debut with McLaren-Honda delayed, all remind of the dangers.
That, however, has not stemmed the flow of new drivers, younger than ever before.
At Toro Rosso, the team that launched Vettel and Ricciardo, a new pairing with a combined age of 37, races for the first time in Melbourne.
Spaniard Carlos Sainz Jr., son of former world rally champion Carlos Sainz, is just 20 while his teammate, Dutchman Max Verstappen, son of former Benetton driver Jos Vestappen, is only 17 and will become the youngest starter in F1 history.
At Sauber, Brazilian Felipe Nasr debuts aged 22 alongside Swede Marcus Ericsson, a one-season veteran at 24.
Overall, only four of the 18 drivers sure to start on Sunday, were aged 31 or more when the entry lists were published, while two, including Hamilton, are 30.
If that is a sign of change, and the falling value of experience compared to youthful promise, attached to sponsorship, it is unlikely to affect the outcome.
Hamilton's main challenge, apart from Rosberg, is likely to come from Ricciardo's Red Bull, as the Australian builds on his breakthrough 2014 season with 20-year-old Russian Daniil Kvyat as his teammate, and the settled Williams pairing of Felipe Massa and Valtteri Bottas.
Both teams did well enough in testing to endorse their potential as rivals to Mercedes with Ferrari in close pursuit and McLaren-Honda, despite the fanfares of expectation, struggling badly.
If one, or more, can take race wins away from Mercedes, it will enliven what threatens otherwise to be a Mercedes procession in another year of living dangerously on and off the circuit.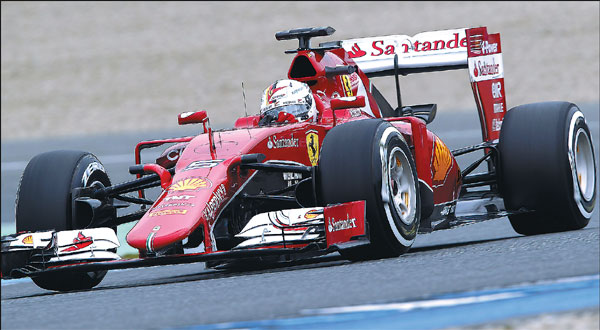 Sebastian Vettel drives his Ferrari during F1 testing at the Circuito de Jerez in Jerez de la Frontera, Spain, in February. Four-time champion Vettel enters the new F1 season in the unusual position of being the outsider. This time, the Ferrari driver is doing the chasing-behind the Mercedes pair of Lewis Hamilton and Nico Rosberg. Miguel Morenatti / Associated Press