No Angel of grace for United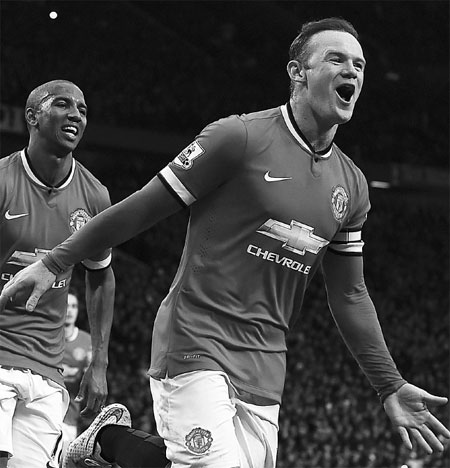 Manchester United's Wayne Rooney celebrates scoring a penalty during the English Premier League match between United and Sunderland at Old Trafford on Saturday. Manchester United won 2-0. Paul Ellis / Agence France - Presse
Manchester United manager Louis van Gaal admitted Angel DiMaria is struggling to adjust to English soccer after substituting himat halftime of United's 2-0 win over Sunderland.
After a promising start to his United career, following a club-record $92.2 million transfer from Real Madrid, the form of the Argentine international has dipped.
Di Maria has scored just once for United since the start of October and, after an ineffective first half against Sunderland at Old Trafford on Saturday, he was taken off at the interval by van Gaal.
"When a player is not in a match, I have to do that," said van Gaal of the substitution. "I'm the manager and I cannot deny what I see.
"We have to give Angel a little bit more time to adapt to the Premier League, the high English rhythm. It is not so easy."
DiMaria's adaptation to life in England has not been aided by a recent attempted burglary a this home, which occurred while he, his wife and young child were on the premises.
United has provided the family with security and moved it into a hotel, but van Gaal conceded the incident had not helped his star signing settle in Manchester.
"Of course," said the Dutchman. "I have already talked about the 'total human being principle', so his environment also has an influence on him, on every human being.
"Me, as a manager, also I have to manage that environment. That takes more time for him? OK, give him that time.
"The difficulty, not only with Angel, but all players, is they have to adapt to the Premier League. He has to adapt to the culture also.
"We have to give him time to adapt, to lift his confidence again because that is also important. He's also a human being, like me, like you. You can make mistakes.
"But he is a top sportsman and he shall overcome this period, I hope."
With Di Maria off the field, his replacement Adnan Januzaj proved far more effective, with his shot leading to Wayne Rooney scoring the second of his two goals late in the game. Earlier, Rooney had opened the scoring from the penalty spot after John O'Shea had hauled back Radamel Falcao in the Sunderland area, only for referee Roger East to send off his teammate Wes Brown instead.
"I'm always happy when a player scores," said vanGaal of Rooney, who moved into double figures for the campaign. "He said tome that normally he shoots the penalties high but with this one he shot it along the floor. I think with this tall goalkeeper (Costel Pantilimon), that was a very good decision.
"I'm very happy that he shot the penalty like that."
United was without Luke Shaw, who had a slight hamstring problem, and the ill pair Phil Jones and Victor Valdes. Goalkeeper David de Gea also picked up a slight foot injury by kicking the ground during the game but all four are thought to have a good chance of being available for Wednesday's trip to Newcastle.
Sunderland, meanwhile, visits Hull City on Tuesday with manager Gus Poyet contemplating whether to appeal against Brown's red card in order for him to be available for that fixture.
"The referee told the players there were two fouls committed," said Poyet. "One by John O'Shea, one by Wes Brown, and he gave the Wes Brown one. Wes Brown didn't touch anyone, so I don't know what he saw.
"We will put everything on the table and speak to the players and make a decision whether to appeal."
Professional Game Match Officials Limited, the body that manages Premier League referees, later released a statement explaining that East felt Brown had also fouled Falcao and was more deserving of a red card.