Reviving the ancient maritime silk road
Chinese navigator Zhai Mo plans to travel the route on his yacht, hoping to generate interest in local culture along the way
Chinese navigator Zhai Mo, 46, is ready to set sail again. Five years ago, he finished his solo circumnavigation of the globe, and now he is determined to lead a group of people to follow the ancient Maritime Silk Road.
"Sailing can strengthen your body and restore your spirit. When you come back to land, you will have a deeper understanding of yourself and the world. If you can leave life and death out of the consideration, what else will bother you?" Zhai says.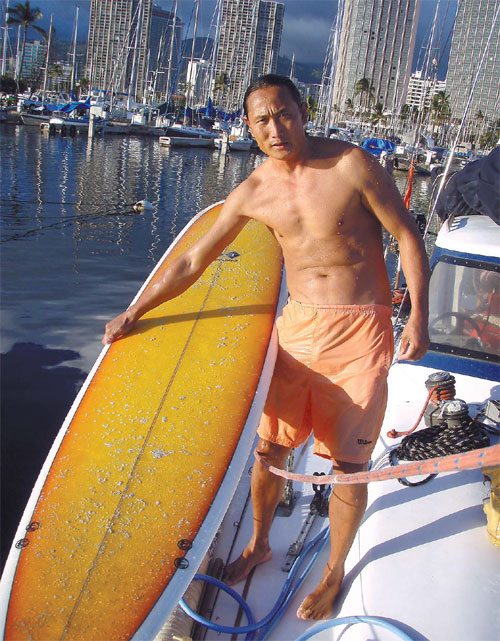 Zhai Mo has never given up his dream even though he's encountered many difficulties in his solo trips. Provided to China Daily
Zhai wants to promote China's diverse cultures at each of the ports along his Maritime Silk Road tour, starting in the spring.
China has a long history of maritime culture. For example, court eunuch and explorer Zheng He commanded seven naval expeditions, going as far as East Africa from 1405 to 1433, sponsored by the Ming emperors.
"But we rarely talked about its heyday because of China's failures in sea warfare such as the First Sino-Japanese War of 1894-95," he says.
"It's important to spread Chinese culture via the voyage, because many Westerners don't know much about China. And China is developing very fast."
Zhai's yacht had sailed around the world six times before he bought it from a foreign navigator three years ago. Its top speed is 7 knots, and the vessel has a capacity for 21 passengers. Designed by American David Pedrick, it is 18.3 meters long and 4.8 meters wide.
There will be at least three yachts in the sailing team, and each will have an experienced captain and three or four sailors.
"Zhai performs real deeds. His shabby sailboat was like a tractor, but he was able to circumnavigate the globe," says Yang Jinshi, 54, one of the captains.
Yang is in Sanya, Hainan province, maintaining Zhai's yacht. They have been preparing for the voyage for about a year and a half.
"It's exciting to have our five-star national flag flying over the yacht in the foreign seas. We want to spread our passion toward sailing and unswerving spirit, and share the beautiful moment with other people," Yang says.
Zhai will also invite passengers from all over the world to experience a lap of the journey. "Anyone can join us - old or young, veterans or laymen. The more participants who join us, the more significant the voyage will be," Zhai says.
With a history of more than 2,100 years, the Maritime Silk Road extended to ports on the coast of India and Sri Lanka, and went all the way to Europe and the Red Sea. It fell into decline due to the ban on maritime activities during part of the Ming (1368-1644) and Qing (1644-1911) dynasties.
Zhai and his crew are like cultural ambassadors, raising the public's awareness of the old conduit for trade and cultural exchanges between China and foreign countries.
It will take two or three months to finish the route, which stretches more than 10,000 sea miles. The crew will carry on board ancient and modern Chinese ceramics, and Chinese tea and paintings to promote the culture at local museums and other events.
A camera crew from Central Studio of News Reels Production will sail with them to shoot a documentary about the Maritime Silk Road, including their ocean trip and the stories of local residents in foreign countries.
Zhai plans to arrive in Milan in May, just in time to join the 2015 Milan Expo that will kick off on May 1.
"It's the best international stage to showcase the Maritime Silk Road culture and Chinese culture. Our photos and videos will be amazing. I'm contacting an officer from the Chinese Pavilion to discuss it," he says.
He also wants to make the voyage a regular international event, and invite visitors to enjoy the pretty scenery and diverse cultures.
During his trip around the globe, Zhai fell ill several times and had some close calls with dangerous storms. But this voyage will be easier and safer, as the crews will operate advanced yachts and high-quality equipment.
The only potential threat is Somali pirates, but the Chinese navy will escort the crew in the Gulf of Aden, a hub of pirate activity.
It takes four to five days to get from one port to the next, so they will need to prepare enough food and water to last a week. Zhai says it's impossible to cook at sea when the wind is strong, so they will eat dry food and Shandong pancakes made by his mother.
The yacht has an electric generator, but Zhai is reluctant to add a fridge. "If passengers want to experience the real lives of sailors, their voyages shouldn't be as comfortable as ordinary tours," he says.
Zhai's interest in sailing dates back to 2000, when he bought an 8-meter long sailboat and spent half a year touring the country.
"I like the feeling that I can go wherever I want with my sailboat. At that time, it wasn't easy to get visas to such places as Pacific islands," he says.
Zhai spent two years and eight months on his voyage around the world, becoming the first Chinese to make the journey alone in an unpowered sailboat. He did it despite opposition from family and friends.
In recognition of the achievement, Zhai won the Touching China award for 2009, an honor presented by China Central Television that is given to inspiring role models.
"Sailing has broadened my horizon and knowledge greatly. To survive, I have to understand astronomy, geography, carpentry and even benchwork."
xulin@chinadaily.com.cn