Djokovic tweaks his preparation routine
Serbian superstar wants earlier start after battling fever
Novak Djokovic is adopting a different approach to a season in which a new wave of top players is emerging to challenge the established elite.
The world No 1 from Serbia discussed the new threat after recovering from a fever that forced his withdrawal two days ago from the Abu Dhabi exhibition and shortly before starting the 2015 ATP World Tour with a doubles match.
"There is a new wave of players able to compete for the major titles. This time was coming sooner or later and we all knew that," Djokovic said after Andy Murray was given the exhibition crown after Djokovic's forfeit.
"I think a wider and larger group of players is able to get to the top.
"You have new faces coming up that can challenge who can win against the best players in the biggest tournaments, like (Marin) Cilic, (Stan) Wawrinka, (Kei) Nishikori, (Milos) Raonic, and (Grigor) Dimitrov, to name just some."
Djokovic's response will be both to compete in the first week of the tour - something he has done only three times previously - and to do so in a tournament he has never previously played.
"I sat down with the team and we considered the schedule and thought it was not necessary in previous years to play the first week of the season," he said.
"I had so many matches in the seasons before that I was able to satisfy my needs on court with a couple of matches in Abu Dhabi or the Hopman Cup and then go to Melbourne for the Australian Open.
"This year was different because we thought the gap between the last match (of 2014) in London, and the first match in the Grand Slam in Melbourne is too big and that I should play earlier in an official tournament."
Despite a new schedule for new circumstances, Djokovic still believes that long-standing rivals, particularly Rafael Nadal, 28, and Roger Federer, 33, remain major threats.
"Rafa didn't play many matches in last four or five months. He had similar issues with injuries few years back, and then he came back in 2013 and played maybe the year of his life," Djokovic said.
"Roger also didn't experience a season up to his standards, but then we were fighting up to the last couple of matches in London for the No 1 ranking.
"So these two guys are still among the main candidates to win every Grand Slam. And Andy (Murray) is right up there, and then you have (Tomas) Berdych and (David) Ferrer, guys who have been very consistent."
Djokovic views a continued quick recovery from illness over the next few days as vital.
"The nature of the illness, I can't really say," he said. "I think it's many things combined. I maybe overused myself, combining practice and family and business. Maybe my body told me I had to slow down a little bit.
"But I'm still managing to fight the flu in a pretty efficient way, so I am just hoping I can protect my wife and baby.
"That's why I'm trying not to be close to them even though it's exciting that we are together. This is going to be the first tournament we are all together with the baby."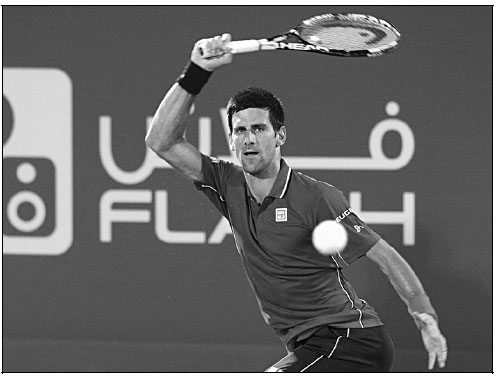 Novak Djokovic returns the ball to Stanislas Wawrinka during their semifinal match at the Mubadala World Tennis Championship in Abu Dhabi last week.    Martin Dokoupil / Reuters