Prince George's County sees growing business with China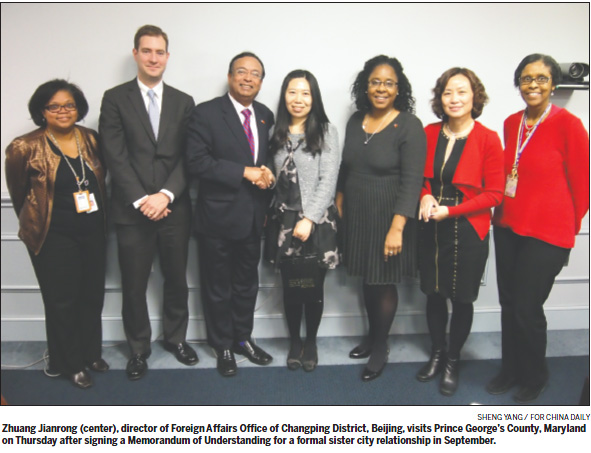 Prince George's County in Maryland is courting commerce with China.
County Executive Rushern L. Baker III held a receptionThursday for a27-member delegation that recently returned from a business mission to China.
"It's a frank conversation about how we can do business in China, but also how Chinese investors and businessmen can come back to Prince George's County and do work," Baker told China Daily at the county administration building.
The reception was held for the delegation's trip to Beijing, Shanghai and Xiamen in September.
Zhuang Jiangrong, director of the foreign affairs office of Changping District in Beijing, attended the reception.The county has signed a Memorandum of Understanding for a formal sister-city relationship withthe Changping District of Beijing.
The county introduced foreign investors to Prince George's development projects during its visit to the China International Fair for Investment and Trade (CIFIT) in Xiamen and later Shanghai.
With more than 30,000 attendees,CIFITis the largest investor conference in China. The delegation was seeking investment for six projects across Prince George County with about $10 billion in projects in the pipeline.
The county'sprojectsinclude a natural gas-powered, 859-megawatt electric generating station in Brandywine; the Beltway Purple Line 21 Station, which is part of a 16-mile,light-rail system from Bethesda to New Carrollton; and the Westphalia Town Center mixed-use development off Pennsylvania Avenue.
"The mutual cooperation will be a bright exchange between Prince George's County and China, for we can take the initiative to engage business in China and welcome them to seek opportunities here as well," said Gwen McCall, president and CEO of Prince George's County Economic Development Corporation.
"China is a booming economy, and it is Prince George's intention to go global" and provide opportunities for both sides, said McCall.
The trip "was a great opportunity to talk about the joint ventures, education and technology cooperation",Victor Hoskins, Baker's deputy chief administrative officer for economic development, told China Daily.
Hoskins, whohas visited China seven times since 1995, had made similar trips to China as Washington Mayor Vincent C. Gray's top economic development official before he was recruited to join Baker's team earlier this year."It's very productive for our businesses," he said.
County Executive Baker said earlier that he would bring some 50 to 70 Chinese companies and high-level officials to the area following the Septembertrip and expects to generate $250 million in investment in county projects over the next two years, according to a report in The Washington Post.
Prince George's County has a population of almost 1 million, and its 500 square miles is larger than Washington's, which has a population of 600,000 and covers 60 square miles.
"We plan to visit China once every year," Baker said.Another county delegation already has planned a visit to China in May 2015.
Baker also has invited representatives of Chinese companies to the SelectUSA Investment Summiton March 23-24, 2015, at the Gaylord National Resort and Convention Center at National Harbor.
President Barack Obama will speak at the summit, which is being organized by the US Department of Commerce.
"Since President Obama started a new policy for business visas this week at APEC (Asia-Pacific Economic Coopoeration), more US-China cooperation will be seen," said Lisa Liu, president of the United States-China Association of Commerce and chairwoman of the Asian Business Council.
Sheng Yang contributed to this story