Blend of scenery, creativity and design
Xiamen is usually considered a peaceful, refreshing getaway from the bustling urban life in big cities.
But it wants to be more than that. Billed as the Antwerp of China, Xiamen has shown increasing influence in the design industry in recent years.
Antwerp used to be an industrial city in Belgium but changed to a fashion center for Europe after six designers who graduated from the Royal Academy of Fine Arts became famous in the 1980s.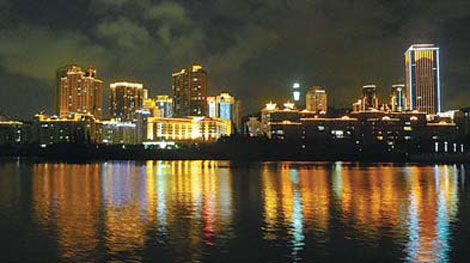 Known for Yundang Lake, Siming is also making a name for itself in the creative industry. Photos by Hu Meidong / China Daily
Similarly, in Xiamen young designers like Liu Wen and Shangguan Zhe have started their careers and began to emerge on the international stage with their stylish work.
In June, Central Saint Martins College of Art and Design from the UK opened a branch office in the Cross-Straits Longshan Cultural Creative Industrial Park in Siming district of Xiamen.
Well-known Chinese fashion designer Ji Wenbo also opened a studio in the park.
The park is the biggest of its kind in Fujian province. Covering 31.4 hectares, it is home to a number of companies in the creative industry and digital technology.
The park mainly focuses on design projects and has intense cooperation with creative companies from Taiwan. With better recognition in the design industry, the park is also expected to become a new tourism destination in Xiamen.
Tourists walking in the park find many buildings transformed from old factories, similar to the 798 art park in Beijing.
An impressive structure is the Longshan Fashion Center. Its 12 meter-high, 1,700-square-meter performance hall is equipped with an advanced lighting and audio system and can accommodate an audience of more than 1,000 at a time. Designers have found it an ideal place for fashion shows.
The Xiamen Industrial Design Center is also located in the park.
The government-backed technology-related project is expected to boost industrial design in Xiamen.
To date 10 companies have joined the center including the Xiamen LED Promotion Center, the Xiamen Creative Lighting Application Design Center and Xiamen Smart Industrial Design Co Ltd.
It is equipped with 3D printers and displays many 3D-printed products.
Another tourism destination in Siming district is Yundang Lake. Solar-powered boats were recently put to use on the lake, offering a new leisure activity that is also environmentally friendly.
The boats also have a shallow draft and make little noise so they don't affect wildlife.
In addition, Asia's leading design company AECOM is working on a plan to improve the landscape surrounding the Yundang Lake and plans to finish it by the end of the year.
Contact the writers at humeidong@chinadaily.com.cn and hantianyang@chinadaily.com.cn