2 dead, 25 injured in explosion and fire aboard Guangzhou bus
At least two passengers were killed and 25 injured in a blast and fire on a public bus in Guangzhou, capital of Guangdong province, on Tuesday night, according to sources with the Guangzhou bureau of public security.
The blast occurred at about 7:40 pm, and an ensuing fire destroyed bus No 301 near the Dunhe bus stop on Guangzhou Dadaonan Road in Haizhu district.
The busy road was at a standstill after two or three lanes were closed by police as they investigated.
Buses on the 301 route operate from Shiqiao in Panyu district to Liuhua Bus Terminal in Yuexiu district.
According to a female passenger who was slightly injured, many passengers rushed to escape the bus after the fire broke out. The female passenger walked by herself to a nearby hospital.
Other witnesses also described what they saw.
"I heard an explosion before the fire broke out in the bus," said a witness surnamed Qiu.
"Then I saw three passengers whose clothes were on fire jump off the bus, shouting for help," Qiu said.
Police cars and six firetrucks arrived immediately, Qiu said.
Cai Weiwu, another witness, said he saw two dead passengers in the first row of the bus.
The bodies were later removed from the bus by police officers, said Cai, a street vendor.
The fire on the bus was brought under control at about 8:40 pm.
The injured reportedly were taken to three nearby hospitals.
Lian Xiaona, a publicity official from Guangzhou Xinhai Hospital, said most of the victims suffered severe burns. The hospital received nine injured passengers - eight adults and a child - Lian said.
"Most of them arrived at the hospital by themselves," Lian said.
The other injured passengers were sent to Guangdong Provincial No 2 People's Hospital and No 421 Hospital, a military hospital.
According to a police source, the injured included a pregnant woman.
An initial investigation indicated that some passengers had taken contraband goods aboard, police sources said.
The investigation was still underway.
Xu Jingxi contributed to this story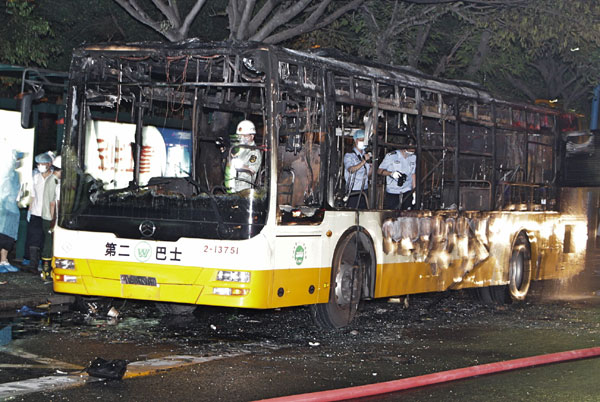 Police examine the bus on Tuesday evening in Guangzhou in which two people died and 25 were injured in an explosion and fire. The blast went off on the bus that was in service on Route 301 at about 7:40 pm. Zou Zhongpin / China Daily