Trophy tour stokes World Cup fever
When Huang Yaiping saw the World Cup Trophy displayed at Beijing's Chaoyang Joy City during a recent trophy tour, the soccer fan realized it's time to prepare for the upcoming soccer season of game-watching parties and celebrations.
"To see the real trophy displayed just on my doorsteps really thrilled me that World Cup fever is coming and will rock the world again," said the 28-year-old, who is a salesman at the mall. "There will be red eyes and sleepless nights for sure."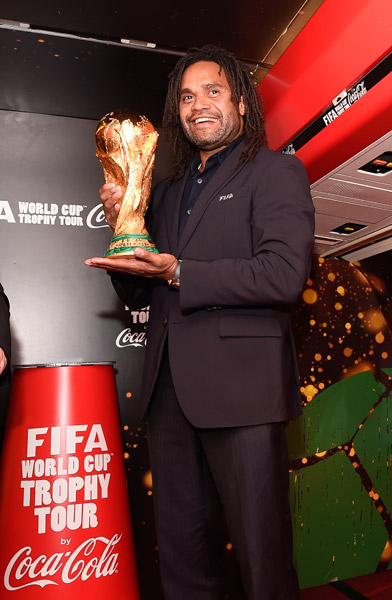 Christian Karember, the FIFA ambassador, shows off World Cup trophy at Beijing Capital International Airport on April 7. xinhua 
With just two months before the kickoff of the 2014 FIFA World Cup, public enthusiasm for the prestigious tournament and its host Brazil has been spreading across China, highlighted by heated scenes at the Coca-Cola FIFA World Cup Trophy Tour's China stop earlier this month.
At Joy City, hundreds of people elbowed their way through crowds for a glimpse or photo of the golden trophy, which made its 88th stop of the 221-day 90-country global tour in Beijing earlier this month.
At the launch of the China tour on April 7, former Chinese national captain Fan Zhiyi, Chinese Football Association Vice-President Lin Xiaohua and pop band Mayday joined FIFA Ambassador Christian Karembeu to unveil the trophy in front of 500 fans at the Beijing Imperial Ancestral Temple.
"To witness the glamour of the trophy will ignite a passion for soccer and the Brazil World Cup in China. The visit of the trophy stimulates great encouragement for current Chinese players and our next generation," Lin said after the launch.
The time difference between China and Brazil means most World Cup games will kick off in the early morning in Beijing, but that won't stop diehard Chinese fans from staying up overnight to watch televised games, said Wang Wen, chairman of the Beijing Football Fan Club.
"I don't think it will be a problem as Chinese fans have become used to watching games in Europe overnight and the appeal of the World Cup is unparalleled," Wang said.
Although Team China failed to qualify for the World Cup, which starts on June 12 in Brazil, China remains a participant in the global sports extravaganza with World Cup-themed trips to Latin America attracting more and more Chinese tourists.
According to China Youth Tourism Service, five groups totaling about 200 tourists have booked game-watching trips spanning from nine to 12 days to Brazil, which wasn't previously a popular outbound destination for Chinese due to the long travel time and complicated visa procedures.
"There is a growing market demand for World Cup tours. The limited number of qualified travel agencies that can offer packages including flights, hotel and game tickets make the trips in hot demand," said Zhao Ninan, deputy director of the CYTS themed product department.
Some regular travelers may avoid trips to Latin America during the World Cup rush but soccer fans will make up for them and even boost business, Zhao said.
The sales increase of tourist packages to host countries around major sports events has never been a surprise but the high expense of traveling to Brazil during peak time remains a heavy burden for average consumers, said Zhang Hui, a professor of economics and tourism at Beijing Jiaotong University.
"The flight tickets will be fully booked early on, and the price for document processing, accommodation and transportation is expected to rise, which will further increase the cost," Zhang told China Daily on April 9.
Offering game tickets from its local operators in Brazil, CYTS' two-game package including fights and accommodation costs about 100,000 yuan ($16,067), almost double the price for similar trips to the World Cup in South Africa in 2010.
"Whether it's worth the money to travel to Brazil during the World Cup remains debatable but I believe there will be enough rich Chinese consumers to do so," Zhang said.
Meanwhile, relevant industrial sections in China have seen a surge partially thanks to the Brazil World Cup and 2016 Rio Olympic Games.
For instance, the need for raw materials for infrastructure construction in Brazil has benefited the business of China's shipping companies.
Trade growth between China and Latin America led to a 7-percent annual increase in the region for China Shipping, one of the country's major shipping companies, with shipping volume in 2013 reaching 180,000 tons. The company expects to increase that to 200,000 tons in 2014.
"We hold high expectations for this region, especially Brazil. The 2014 World Cup and 2016 Olympic Games mean many infrastructure construction projects," said Tan Shumeng, managing director of China Shipping (Brazil).
With high demand for cheering flags and banners, manufacturing factories in China have also been producing at full capacity.
Hanghzou-based Donghao Flag Co in Zhejiang province started taking a flurry of World Cup orders last year and its fewer than 20 workers have produced about 400,000 flags.
The latest batch will have to be delivered no later than April 14, two months before the opening ceremony.