Replica World Cup trophies seized in anti-piracy swoop
A total of 1,020 unauthorized FIFA World Cup soccer trophies were intercepted on Wednesday by the customs office in Yiwu, Zhejiang province.
Officials have recently moved to strengthen intellectual property protection related to the World Cup in Brazil in June and July. The replica trophies, which were to be exported to Libya, were found by customs agents during a routine check.
A representative of FIFA, the owner of the World Cup trophy's design, later confirmed that the actual-size duplicates were unauthorized.
Luo Xuhong, a customs official in Yiwu, a global trade center for small commodities, said his office strengthened inspection efforts after the General Administration of Customs launched an initiative known as Greenfield Action on April 11.
The initiative focuses on World Cup issues. Local customs agents are required to pay special attention to any exports that might violate the intellectual property rights of FIFA and World Cup sponsors.
Luo said that because of Yiwu's position as the world's largest distribution center for small commodities, ranging from socks to sports kits, the city's customs office established a special team to support the initiative.
In addition to tightening routine checks on export containers, the customs office also organized lectures to curtail violations of intellectual property rights for commercial tenants.
"In order to leave a deep impression on commercial tenants in the Yiwu small-commodities center, we invited FIFA experts to give lectures," he said. "We also showed these tenants the achievements of our previous actions and advertised protection policies."
He Huaming, owner of Yiwu Sheng Hua Handicraft Products, said that selling World Cup-related products is a big attraction for tenants in Yiwu because business was so good in 2010 during the previous World Cup in South Africa.
"It was really a hit in 2010 when people all over the world were buying World Cup products from the market. During peak seasons, we were out of containers to ship clients' orders to other countries," he said.
However, he decided not to take the risk this year, because selling unauthorized products is more difficult now than in 2010.
"Four years ago, selling and exporting some unauthorized products was not that hard. Only a few were caught," he said. "This year, however, we must show authorization to sell these products. Otherwise, if caught by the customs office, the fine will be very heavy."
During the 2010 World Cup, Yiwu customs office intercepted 17 batches of unauthorized World Cup-related products. Among 116,952 products were slippers, hats, T-shirts, bags and other items worth 1.02 million yuan ($165,000).
yanyiqi@chinadaily.com.cn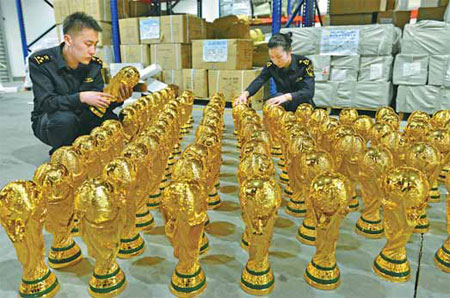 Customs officers check unauthorized World Cup trophies intercepted in Yiwu, Zhejiang province, on Wednesday. Lyu Bin / for China Daily