Confucius Institute meets a need
Chinese Vice-Premier Liu Yandong took a major step in strengthening the Confucius Institute in the United States, dedicating a new center in the nation's capital and promising support for its mission of promoting the teaching of Chinese language and cultural exchanges, Cai Chunying reports from Washington.
To the 98 Confucius Institutes at American universities and colleges, this week's visit to the US by Chinese Vice-Premier Liu Yandong has opened a new chapter.
She officially launched the Confucius Institute US Center in Washington, a regional headquarters dedicated to helping schools and the non-profit institutes achieve their shared goal: to promote Chinese language learning and cultural exchanges.
Liu is in the US to co-host, with Secretary of State John Kerry, the fourth China-US High-Level Consultation on People-to-People Exchange (CPE), an initiative devoted to enhancing understanding and collaboration among citizens of the two countries.
Praising Confucius Institute as a manifesto of effective cultural exchange, Liu said she would give the initiative greater prominence in her discussion with Kerry, and she promised to provide more support.
This was welcomed news for Xu Lin, director-general of the Office of Chinese Language Council International - more commonly known for its Chinese abbreviation Hanban - which is also the headquarters for Confucius Institutes worldwide.
Under Xu's leadership, 435 Confucius Institutes and 644 Confucius Classrooms have been launched in 117 countries and regions since 2004 when the first one was established in South Korea. About 500 institutions, including 70 or so in the US, have applied for the establishment of a Confucius Institute or Classrooms.
Hanban provides each institute with startup funding, Chinese language teaching materials, and language teachers, while the host university provides infrastructure, administrative support and accommodations for visiting teachers. Hanban also appoints a Chinese partner university for the institute, which sends a Chinese director to work together with the director appointed by the American side.
US No 1
The US leads the world in the total number of Confucius Institutes with 98. Located across the street from the Brookings Institution in the nation's capital, the new US Center will serve as a source of information and communication for US government agencies and civic organizations, and a coordination center to promote cooperation and exchanges among all the Confucius Institutes in the country.
Building overseas institutes to promote a country's language and culture is nothing new. Great Britain has more than 190 British Councils in more than 100 countries, and Germany's Goethe Institute is in nearly 160 locations worldwide. Alliance Franaise was launched by France 130 years ago and now has the largest network of around 1,040 branches globally.
The British Council and Goethe Institute are funded by their respective governments, while Alliance Franaise is more of a private institution with subsidies from the French government.
"The US does this too," said David Keitges, director of International Student and Scholar Services at the Miami University of Ohio, who also serves as the interim director of the Confucius Institute there that was established in 2007. "For a long time we had US libraries abroad, and the musician Louis Armstrong would tour around the world promoting good will and teaching culture."
To C. D. Mote, former president of the University of Maryland (UMD) who played an essential role in placing the first Confucius Institute in the US, or the second in the world, at the school, China's establishing the institutes mostly within universities in a foreign country is an innovation.
"The other international programs are served rather more as a cultural and diplomatic mission of the country," said Mote. "The Confucius Institute is much more embedded in the countries they serve. Each CI program comes out of the country. They do not come out of Beijing."
Mote is referring to the diversity of the Confucius Institutes in the US and that each designs its own programs based on the resources and strength of the hosting university with little involvement from the institute's headquarters.
Stanford University's Confucius Institute, established in 2010, leans more toward the research side of Chinese culture and endows a professorship and two graduate fellowships. Newly formed Confucius Institute at the University of California at Davis is devoted to teaching Chinese cuisine art. Pfeiffer University's Confucius Institute finds its comfort zone in teaching calligraphy. Georgia State University takes pride in its Confucius Institute's offering of business Chinese courses, to name just a few.
Mote's observation on the independence of each Confucius Institute is echoed by Richard Saller, dean of the School of Humanities and Sciences at Stanford University and director of its Confucius Institute.
"I would say we've had a mutually respectful relationship, we've done things in the way we've done with other countries. They provided funds, we developed the program," he said. "We've absolutely benefited from having the Confucius Institute on campus. Our program in Chinese studies is stronger now. The US and our students stand to gain a lot in learning and understanding more about Chinese culture. I'm just glad to offer a stronger program as a result of Hanban's contribution."
Never say 'no'
At the opening ceremony of the Confucius Institute at George Washington University (GWU), the first in the US capital, in April, director-general Xu told the audience, "We will never say 'no' as to which activity you do or which program to use. You are free."
With his university's global strategy in mind, GWU President Steven Knapp further embraced the initiative by serving as the chair for the newly-formed US center. He also recently joined the Council of Confucius Institute Headquarters, a combined governing body and advisory board for Confucius Institutes worldwide.
The council includes 10 foreign members, consisting mostly of presidents of universities from five continents.
"The Confucius Institute makes it easier for our students to really understand the world in a more rich, complex and subtle way, which will help prepare them for the kind of interaction with others that is part of what it means to have a truly global education," Knapp told China Daily.
Andrew Chester, a recent graduate of GWU, impressed the visiting Chinese Vice-Premier Liu at an event given by the university's Confucius Institute this Wednesday. Chester recited, in the original Chinese, an early 1920s poem by the renowned Chinese writer Xu Zhimo about his wistful departure from the University of Cambridge. Chester majored in biology and studied Chinese as a minor.
For Hanban, setting up Confucius Institute is the answer to the ever-increasing demand from people around the word to learn the Chinese language, as showcased by Chester.
According to China's Ministry of Education, 30 million people were studying Chinese worldwide as of December 2012. The number of foreigners taking the international Chinese proficiency test, the HSK, rose to 3.5 million in 2012 from 117,660 in 2005.
Cui Jianxin, associated director of the Confucius Institute at UMD, has witnessed that surging interest first hand. He said that so far this year more than 800 people took the HSK test at his site, more than the total number last year. When the test was first offered by the institute in 2004, there were only a couple of dozen applicants.
Recognizing the shortage of qualified instructors to teach Chinese in elementary and secondary public schools in the US, Donna Wiseman, dean of the College of Education at UMD who also serves as the director for the Confucius Institute, took the initiative to build a Center for Chinese Teacher Certification and Development, using a grant funded by Hanban. The 30 or so students who graduated this year with the teaching certificate all obtained jobs, according to Cui.
For many universities, a Confucius Institute also meets their demands of furthering research collaboration with Chinese universities. This is the case for Frances Sun, managing director of the young Confucius Institute at GWU, whose Chinese partner institution is Nanjing University, a top one in China.
"Our Confucius Institute builds on the partnership we already had established between the two universities. We see our collaborations growing even further," Sun said. She led a delegation of faculty members from eight disciplines at GWU to Nanjing University this summer, exploring additional collaborative research and teaching opportunities.
Confucius Classroom
The outreach of Confucius Institute does not stop at the university level. It reaches elementary and secondary education with Confucius Classroom, which often is directly connected to the Confucius Institute at the university in the region. Almost half of the 644 Confucius Classrooms worldwide are in the US, according to the latest data from Hanban.
The Confucius Institute at UMD serves as mentor to four Confucius Classrooms operating in the state including Garrison Forest School, a pre-k to 12th-grade school exclusively for girls.
B.J. McElderry, coordinator of the Confucius Classroom at the school, said she was excited to discover during a trip to Beijing in 2009 that Hanban had the program she wanted for her school. With a master's degree in Asian Arts, McElderry has been doing arts and cultural programs related to China for her students on her own for years.
Hanban's fund and support has enabled McElderry to set up two selective Chinese classes, enrolling 64 students in total. The school also provides after-school Chinese program for its pre-k to 5th graders plus a wide range of Chinese cultural activities. Last year, their Mid-Autumn Festival celebration gala drew more than 600 attendees from the community.
"[The program is] giving them a much broader global perspective," McElderry said. "Our students need to develop a good sense of their own by looking at both sides of playing field, both sides of the world."
Confucius Classroom has reached as far as Allegany County, the most northwest corner of Maryland. Gong Wenjing, a Chinese teacher sent by Hanban to teach at the Confucius Classroom there, has kept busy by presenting intensive Chinese courses for three high schools in the region.
"American students are so curious about Chinese culture. They raise intelligent and challenging questions. I have to drive myself pretty hard to keep their interest running high throughout the class," said Gong, who teaches five hours and commutes between schools to see her 50 students each day.
"Chinese teachers being dispatched to the United States are selected from applicants of best quality," said Gong who has a master's degree in teaching Chinese as a second language and had taught Chinese in Thailand for two years before coming to the US. Gong attended intensive-training courses offered by Hanban, which covers every aspect of Chinese culture.
"I am utilizing all I have learned to provide my students a comprehensive understanding of China. When they are happy, I am happy," Gong said. "I am also learning about the US and my students have provided me with a new perspective to see my own culture."
Gong is one of the more than 10,000 teachers and volunteers in overseas Confucius Institutes and Classrooms "They are the living embodiment of China and Chinese culture," said Xu, the director-general in an earlier exclusive interview with China Daily.
Gong is also the player and benefactor of the people-to-people exchange between US and China that Chinese Vice-Premier Liu's delegation has been promoting with her US counterparts.
According to the Development Plan of Confucius Institute 2012-20, announced by Hanban earlier this year, the total number of Confucius Institutes worldwide will reach 500 by 2015.
Mote, the former president of UMD and current president of the US National Academy of Engineering, who also is a member of the Council of Confucius Institute Headquarters along with GWU president Knapp, has believed in the value of Confucius Institute since its first day of existence in the US.
"The benefits students have received from Confucius Institute are long-term benefits," he told China Daily. "You are really changing the way people think about China over their lifetime. That's absolutely crucial for the future."
And he added: "If China does not take on the mission of teaching the world about Chinese culture and language, no one else in the world can do it. I do not see plan B for this."
Contact the writer at charlenecai@chinadailyusa.com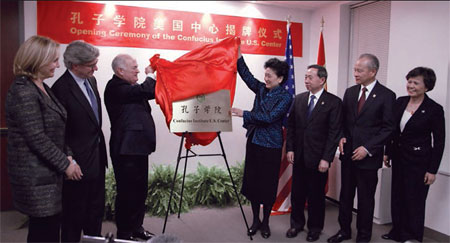 Chinese Vice-Premier Liu Yandong (center) and George Washington University President Steven Knapp unveiled the plaque of Confucius Institute US Center in Washington on Wednesday. To Knapp's left are Josette Sheeran, president of Asia Society, and John Thornton, chairman of the board of trustees of the Brookings Institution. To Liu's right are China's Minister of Education Yuan Guiren, Chinese Ambassador to the US Cui Tiankai, and Office of Chinese Language Council International Director-General Xu Lin. Sun Chenbei / China Daily