Saudi Aramco: Partnership as biggest oil supplier
Q+A: Sulaiman M. Ababtain
Saudi Aramco is a global leading energy and chemicals enterprise and a top exporter of crude oil in the world. Its business with China occupies a prime place in its global strategy. In 2012, the company established a new subsidiary, Aramco Asia based in Beijing to manage its interests in China.
Saudi Aramco and its subsidiaries own or have an equity interest in domestic and international refineries with a worldwide refining capacity of around 4.5 million barrels per day (bpd), making it the world's sixth largest refiner.
China Daily recently spoke with Sulaiman M. Ababtain, president of Aramco Asia, about Saudi Aramco's business development in China.
What is Saudi Aramco's strategic vision for China?
Very early on Saudi Aramco recognized the growth of China and the nation's need for energy. Back in 1998, we established a representative office in Beijing to support the crude oil sales and marketing activities, and today Saudi Aramco's crude oil sales to China stand more than 1 million bpd.
We have built upon a solid foundation and today Saudi Aramco is China's leading crude oil supplier. In this context, China in 2011 became the Kingdom of Saudi Arabia's largest trading partner with bilateral trade totaling approximately $64.4 billion.
Foreign direct investment from China to Saudi Arabia also has increased steadily with the number of projects growing from 21 to 81 between 2006 and 2010, and the value of these investments increasing by more than 600 percent.
The establishment of Aramco Asia demonstrates Saudi Aramco's commitment to China, and it will serve our customers and partners in China and in Asia. Aramco Asia integrates our offerings, services, business development, joint venture coordination, crude oil sales support and marketing, and petrochemicals marketing under one entity to be closer to and better serve our customers and partners.
We are aware of our role in providing the vital energy China needs and we are also aware of China's developmental needs now and in the future, including more homes, expansion of transportation networks, greater demand for products such as electrical appliances, which means the amount of energy needed to fuel that growth is going to increase significantly.
In January this year our chemicals marketing department located in our Xiamen branch office made its first direct chemical sale in China and we expect our activities and businesses to grow in China to meet the nation's rising demand for energy and derivative products.
Our presence in China is not only intended to support crude oil sales and refining and petrochemicals, but we also see great potential for sourcing and the buying of related industrial goods and services.
Our Shanghai based contracting and procurement departments have selected over 250 suppliers and contractors in China to do business with Aramco Asia in support of Saudi Aramco's operations. Suppliers cover commodities including drilling chemicals and equipment, electrical, heat transfer equipment, pipes, pumps and valves. Contractors cover services including consultancy, logistics, research, maintenance, licenses and HR recruitments, etc.
Why was Beijing chosen as your headquarters in China?
We established our first representative office in Beijing in 1998 and as Aramco's business grew in China, we decided to strengthen our presence with a hub in Beijing.
We deployed as well as hired a team of expert professionals in China to conduct and develop business at Aramco Asia's headquarter in Beijing as well as its branch offices in Shanghai and Xiamen.
Our team is ready to assist Chinese stakeholders in joint venture coordination, business development, crude oil sales and marketing services, petrochemicals marketing, and procurement. Chinese industries already are leaders in supporting Saudi Aramco on key projects, in exploration, drilling, and other services.
What are current and future business plans in China?
Currently, Aramco Asia manages Saudi Aramco's ownership interests in two joint ventures in China: Fujian Refining and Petrochemicals Co (FREP) and Sinopec Senmei Petroleum Co Ltd (SSPC).
FREP, in which a Saudi Aramco subsidiary and ExxonMobil each hold a 25 percent share and the Chinese partner, Fujian Petrochemical Co Ltd, owns the remaining 50 percent, expanded an existing refinery in Quanzhou, Fujian province, from 80,000 barrels per day to 240,000 barrels per day. FREP started operations in 2009.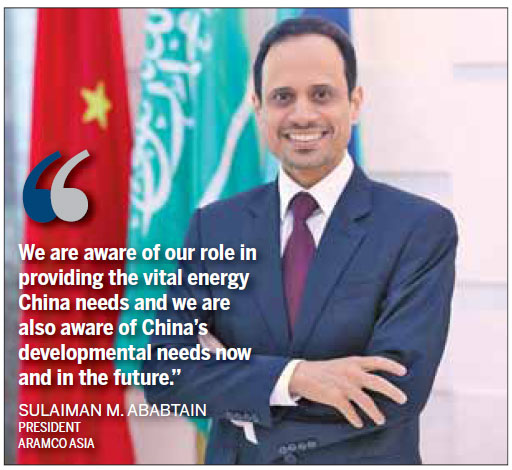 SSPC, in which a Saudi Aramco subsidiary and ExxonMobil each maintain a 22.5 percent stake and Sinopec holds a 55 percent interest, markets gasoline, diesel and illuminating kerosene produced by FREP through SSPC's vast network of some 840 service stations and 14 distribution terminals throughout Fujian province.
In Saudi Arabia, Saudi Aramco and Sinopec have formed Yanbu Aramco Sinopec Refining Co (YASREF) Ltd, a joint venture that will construct, own and operate a full conversion refinery in Yanbu' Industrial City.
The joint venture refinery will be a world-class, full-conversion refinery using 400,000 bpd of Arabian heavy crude oil to produce ultra-clean transportation fuels for international and domestic markets as well as high-value refined products. The refinery's construction is expected to be completed in 2014.
We continue to explore opportunities to expand our international refining and chemicals portfolio with partners in China while leveraging our domestic and other international joint ventures.
As our parent company continues to make significant investments in technology and innovation, Aramco Asia will be responsible for managing the new R&D technology centers planned for the Asian region.
What kind of commitment has Aramco Asia made to corporate social responsibility in China?
Aramco Asia is demonstrating its commitment to China not only through the supply of petroleum products, but also by giving back and developing businesses and partnering to drive economic development, including reaching out to the community by supporting cultural and educational exchange and targeting our charitable contributions.
We plan to collaborate in exchange programs in both arts and science and enhance links between Chinese and Arabian cultures and interactions with the world.
In 1998, we sent 10 students to study Chinese language in China and then to complete bachelor's degrees in China in such disciplines as chemical engineering, mechanical engineering, finance, and marketing. Ever since then, we have continued to send some of the best of our young Saudi students to China. Today, more than 40 students sponsored by Saudi Aramco are studying chemical and mechanical disciplines in China.
Additionally, Aramco Asia supports China's leading charitable organizations working on causes to enhance social and educational developments.
How important is technological innovation to Saudi Aramco's success?
Saudi Aramco continues to make significant investments in technology and innovation. The company's employees play a key role in its position of leadership in the industry. Our extensive operations provide us abundant firsthand experience, resulting in the cumulative effect of continuous incremental improvements over time, and thus enable technology innovations and breakthroughs.
In 2012, Saudi Aramco's culture of innovation was rewarded at the 2012 World Oil Awards with our contributions to real-time reservoir management over the past 10 years being recognized with the Innovative Thinker Award. We also received the New Horizons Award for a "game-changing" invention that tracks the physical movement of marine oil spills in real time.
Examples include a tool for locating and plugging lateral wellbores, flare stack and combustion apparatus, automated real time reservoir pressure estimation, advanced petrophysical algorithms fostering the shift from well-centric to model-centric workflow, and an illuminated directional wind speed indicator.
In the unconventional gas arena Saudi Aramco's multidisciplinary unconventional asset teams are empowered to identify and deploy the latest technologies in more than 1.2 million square kilometers of frontier unconventional basins in the Northwest, south Ghawar, Jafurah and Rub'al-Khali in the Kingdom. Professionals work with source rocks and tight reservoirs that are associated with the largest oil and gas fields in the world.
Continued investments are a key part of the company's strategy to maintain its competitive edge. To access the best research talent in the world, leverage global scientific expertise, and strengthen collaboration in addressing technical challenges and encouraging innovation, the company has been establishing international research centers and industrial alliances in strategic locations around the world as well as broadening and deepening our relationships with world-class universities.
At the same time, Saudi Aramco's two pioneering research centers - the Research and Development Center and the Exploration and Petroleum Engineering Center's Advanced Research Center - continue to push the boundaries of what we can achieve in energy research.