Expo Special: Fans of fine ceramics, porcelain to converge on Zibo

Zibo, the host of the exhibition, is renowned for its ceramics. Provided to China Daily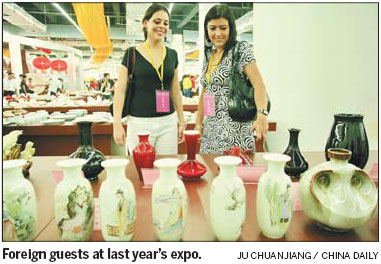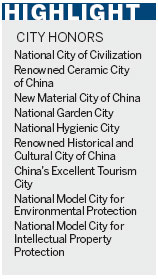 Thousands of porcelain and ceramic product manufacturers from around the world will attend an industry expo next month in Zibo to seek technical exchanges and business opportunities.
The 13th China International Ceramics Exposition will be held from Sept 6 to 9 in the Shandong city that is known as the "capital of ceramics" and the birthplace of the Chinese art form, according to event organizers.
The participating companies will showcase their products at an exhibition hall with an area of 20,000 square meters. It will feature porcelain items for daily use as well as ceramic crafts and materials for use in high-tech industries and construction.
Organizers said this year's gala will include a special showcase dedicated to luxury household ceramics and porcelain as well as a ceramics craft fair aimed at the international market, a Chinese glazed glass and silk show, investment and trade fairs, a national technological innovation symposium, and a series of cultural and tourist activities.
'Wood fire' festival
One exciting part of the expo is the "wood fire" festival. It is designed to give people a taste of traditional methods for producing ceramics in wood-fired kilns.
Around 100 ceramic artists from 13 countries - including Brazil, Japan, Canada, the United Kingdom and India - have been invited to create works of art onsite.
An international new materials technological forum will be held at the same time, which will attract hundreds of academics and industry professionals from China's top research institutions - including the Chinese Academy of Engineering and the Chinese Academy of Sciences - as well as international institutions.
They will visit the local ceramics enterprises and share their insights on the latest technological innovations.
The expo, which started in 2001, is jointly sponsored by the China Ceramics Industries Association, the China Federation of Industrial Economics and the Zibo city government.
Because of its increasing scale and number of exhibits and participants, it has developed into an important international event for ceramic manufacturers, buyers and porcelain collectors, bringing a total turnover of 29 billion yuan ($4.74 billion) in the past 12 years, according to the organizers.
At last year's event, 629 contracts were signed and more than 4.3 billion yuan worth of business was conducted there, according to the local government.
Located in the center of Shandong province, Zibo's porcelain industry has a history of more than 10,000 years, according to archeological discoveries in a cave in Yiyuan county.
Ceramic hub
Today, Zibo has become one of China's major ceramic production hubs. It is home to 278 ceramic enterprises with more than 100,000 employers, including more than 3,000 advanced craftsmen and 14 State-level art masters.
The enterprises produce at least 6,000 different varieties of porcelain and ceramic products, covering household porcelains, ceramic crafts, building ceramics, ceramics for high-tech industries, and ceramics machinery.
The city was also declared a New Materials City by the Chinese Materials Research Society in September 2010.
It has several national-class R&D facilities for new materials. They provide technological support for a number of local companies that produce advanced ceramics, new ceramic materials and heat-resistant products.
Because of their good quality and high artistic value, Zibo-made ceramics have been frequently presented to foreign guests as State gifts and have been exported to more than 80 countries and regions, including the United States, South Korea and Japan.
Ceramic and porcelain products from Zibo have been used in the Great Hall of the People, the Diaoyutai State Guesthouse, and Zhongnanhai - the central government complex - for several years.
New ceramic materials produced in the city have even been used in the sectors of aerospace, defense and nuclear energy.
wangqian2@chinadaily.com.cn
(China Daily 08/29/2013 page12)