Generational curse of family enterprises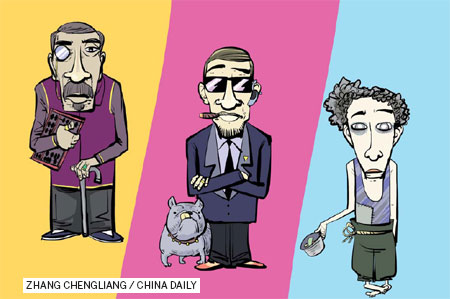 Why thriving Chinese homegrown businesses rarely make it past the grandchildren
Asia's high-velocity economic development is turning it into an epicenter of the global economy. Among the stalwarts of the Asian economy, often representing more than half a nation's GDP, are family businesses, many of them owned by ethnic Chinese families in China and throughout the Asian diaspora.
These businesses can lead the way in the region, and globally, in delivering goods and services to existing and new markets, and in creating countless new jobs.
For the founders of these family businesses, success has not come easy. Uppermost in their minds after tasting initial success are three things: that the fortune amassed will be passed to their progeny; that there will be harmony among the progeny; and that the name and value of the family will endure for generations to come.
But most Chinese family businesses historically don't last beyond three generations. There are several possible reasons.
First, Chinese family businesses lack a sustainable success model, often relying on low cost and cheap prices for their competitive advantage. They lack strategic vision for long-term growth or commitment to research and development. Branding is often an afterthought, and the goods they produce seldom achieve an international reputation.
Second, Chinese family traditions also militate against durability. The notion of primogeniture prevalent in Europe and Japan is not a part of their practice. Instead, they believe in equal inheritance among male descendants, resulting in dispersed and diluted ownership in the third generation and beyond. This is a fatal flaw that dooms their long-term survival.
Third, other values in mainstream Chinese society also conspire against long-term prosperity. "Birth order" or seniority rather than meritocracy often determines management succession. Allied to this is a deep-seated faith in collectivism that runs counter to individualism in the West.
Fourth, over the past century, these businesses have operated in a political environment that is not conducive to stability. There is among them "the bag is packed" mentality that has little use for long-term planning or brand creation.
Fifth, the fortunes of Chinese family businesses are built on the backs of their family, with an over-dependence on family factors. When things go smoothly with unity and harmony in the first generation, their fortunes flourish. But second and subsequent generations have other priorities. They are often plagued by nasty internecine struggle for control, which may lead to their unraveling.
A family business by its nature tends to be close-knit and distrustful of outsiders. It is thus denied access to the unlimited talent pool outside the family circle.
Having their second generation educated overseas is not necessarily the solution, as they may be imbued with Western values that go against the grain of traditional Chinese ones. Intergenerational cultural conflict is not uncommon. China's family-planning policy and the tendency toward late marriage means there is a very narrow choice of offspring to inherit the business.
Despite this panoply of negative factors, there are a few splendid examples of success, lasting beyond the third generation. They dare to break into new directions, even discarding segments of their business that have outlived their usefulness. Overall, they believe in ability over age in the decision-making process. Notable among these companies are Li & Fung and Lee Kum Kee.
Li & Fung was jointly founded by the heads of two families in 1906 in Guangzhou, specializing in the export of Chinese products that ranged from porcelain to fireworks. Starting in the 1990s, Li & Fung underwent a radical change. Riding on the globalization trend, it stretched its business tentacles through strategic acquisitions, taking its purchasing operations beyond their comfort zone in Southeast Asia to the rest of the world.
Today, with a market value of US$11 billion, it is a multinational, listed on the Hong Kong Stock Exchange as a supply chain management concept business doing brisk business in a wide range of consumer goods from garments and toys to shoes and sports goods. Its honorary chairman is Victor Fung and the chairman of the board is his brother William Fung, both Harvard-educated third-generation leaders.
Li & Fung owes its renewed prosperity to a successful restructuring of its share distribution and concentration. When listed in the 1970s, its shares were widely disbursed. By attracting private funds the Fung brothers were able to take the company private, thus substantially increasing their shares in the process. Three years later, they again took the company public. With the withdrawal of the private funds, absolute control of the business fell into the brothers' hands. They dramatically turned a simple trading company into a gold-plated supply chain conglomerate.
The Lee Kum Kee family business, is older than Li & Fung. It was established in 1888 when its founder Lee Kum Sheung invented oyster sauce in Zhuhai, Guangdong. Today, it is a leading manufacturer and trader in sauces and condiments, with more than 220 varieties exported around the world.
With its headquarters in Hong Kong, it has production bases in the US, Malaysia and China. In the 1990s, it diversified its product offerings from its core business to include Chinese herbal and health supplements for a highly health-conscious world. Today, this new segment outperforms its core business.
The company was able to outlast so many others by adapting to changing conditions and challenges. In 1920, the founder distributed its assets equally among his three sons. By 1972, its third-generation leader Lee Man Tat purchased the shares from his cousins and acquired absolute control. In the 1980s his four sons joined the company when they returned after overseas studies, bringing with them new and Western concepts and practices in management and turned it into a global brand. From a workforce of just 20 in 1980, it has grown to 8,000 today.
Lee Kum Kee's differs from Li & Fung's in one aspect: institutionalizing its management and succession philosophy. Currently, the chairmanship in the fourth generation, for one, is rotational. The company enshrines a civilized family constitution with a Family Council that stipulates only blood relatives can inherit the business.
With the onslaught of globalism, the challenges confronting Chinese family businesses are enormous. Strategic adjustments are necessary to capitalize on the economic rise of Asia. To do so, these businesses must blend the benefits of the traditional model with fresh thinking in order to survive and thrive for many generations to follow.
The first requirement of breaking the curse of Chinese family business must begin with gaining absolute control of the shares. An injection of Western management practices ensures that they are not tethered to a changeless tradition. By taking their business global, they are able to sidestep the common Chinese concern of geopolitical instability, making it possible to plan long-term expansion. And with an impartial system for succession, they are able to ward off the curse that dooms most Chinese family business beyond the third generation.
Roger King is founder and current director of the Tanoto Center for Asian Family Business and Entrepreneurship Studies, and adjunct professor of finance at the Hong Kong University of Science and Technology. Winnie Peng is associate director of the Tanoto Center and adjunct assistant professor of finance at the university. The views do not necessarily reflect those of China Daily.