Mandela and the China connection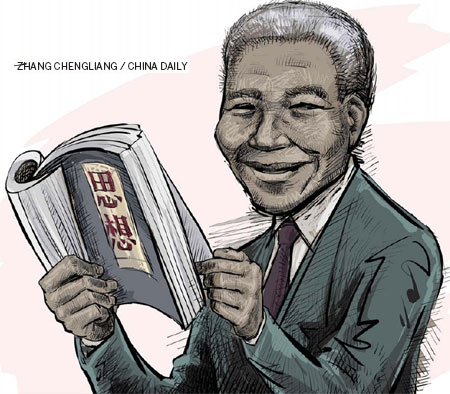 How the great man was influenced by the Chinese during his long walk
If the gushing accolades for Nelson Mandela had taken an eerily somber tone over the previous few weeks, July 18 was a welcome thawing of premonition over the icon's days on earth.
Serendipitously, updates indicating that Madiba's health was looking up came during his 95th birthday, observed as Mandela International Day, the only UN-designated commemorative event in honor of a person. As fate would have it, July 18 coincided with an improvement in his health, setting off a new round of emotional, if optimistic outpourings.
It's the spirit of the times, and China has not been left behind in the global Mandela adoration. On July 18, for instance, Chinese author Li Yong, who has written a book about Mandela, spoke glowingly at a charity event hosted by the South African embassy in Beijing. On the same day, the Beijing-based Young African Professionals and Students Association hosted an event during which members mingled with their Chinese colleagues and international guests, relating anecdotes and episodes of Mandela's eventful life.
The Chinese media has also been awash with Mandela headlines disseminating the continuous flow of official statements wishing Mandela a speedy recovery.
In the words of Li, "Mandela is the greatest person alive on this planet."
Less appreciated is Mandela's link with China. In his best-selling autobiography Long Walk to Freedom, Mandela reflects: "Like the people of the East, Africans have a highly developed sense of dignity, or what the Chinese call 'face'." This refers to the concept of mianzi, a tenet of Confucianism in which losing reputation is anathema in a harmonious society.
In the mid-1940s, Mandela's African National Congress initiated a series of campaigns of defiance against dominant white rule. Although he was one of the ANC leaders, he saw no contradiction in forging alliances with other parties fighting against a common and formidable foe. One such ally was the South Africa Communist Party, whose ideological bent was toward a classless society. Against opposition from some of his "comrades", the ANC entered an on-off partnership with SACP.
Mandela admits he was "handicapped by ignorance of Marxist philosophy" at the time. To rectify that, he immersed himself in the works of Marxist leaders, including Mao Zedong. In his autobiography, Mandela writes: "In Edgar Snow's brilliant Red Star Over China I saw that it was Mao's determination and non-traditional thinking that led him to victory."
He also read works by China's chairman from 1959 to 1969, Liu Shaoqi, and eventually wrote a paper entitled How to be a Good Communist, as an interpretation of communism in the South African context. That paper would be used against him during the infamous Rivonia trials in the early 1960s.
Mandela's pragmatism is such that while he came away from Marxist readings not exactly sold on concepts such as dialectical materialism, he saw the value of appropriating some Communist principles into the struggle. He was more in favor of nationalism blending African cultural principles and some elements of Communism.
Mandela and the ANC also maintained close links with the Yu Chi Chan Club, a study group on guerilla warfare. The club was inspired by Mao's tactics that had led to the proclamation of the People's Republic of China in 1949, ideas Mandela embraced at the time.
One of the earliest contacts between the ANC and the Communist Party of China was in 1953 when Mandela's compatriot Walter Sisulu led an ANC youth group on a clandestine trip to Bucharest, Romania, to attend the leftist World Festival of Youth and Students for Peace. It was clandestine not only because the apartheid administration would have forbidden it, but more importantly because many ANC leaders wanted the organization to be a pure African affair unadulterated by "alien" ideology like that espoused by the SACP. It is Mandela who encouraged Sisulu and other ANC youth to steal away and travel to the event, for which he was later heavily reprimanded.
Mandela is on record saying he suggested Sisulu visit China to discuss acquiring weapons for an armed struggle. From Bucharest, Sisulu detoured to China where he would report the trip as "a remarkable and unforgettable experience". He would also report that the 600 million Chinese people were united in common opposition to "imperialism, the landlord classes, bureaucratic capitalism and the reactionary Kuomintang clique of Chiang Kai-shek".
It is therefore probable that the ANC leadership was among the first of Africa's liberation movements to seek China's support. But as Mandela writes in his autobiography, the Chinese leadership was wary of the ANC's preparedness for waging armed struggle.
To lift spirits during those early days of the struggle, the ANC youth who had visited or trained in China would sing Chinese liberation songs. The ANC's links with China and other Communist states seemed to have emboldened the movement to abandon Mahatma Gandhi's passive resistance approach to armed struggle. Soon, a number of ANC members were traveling to China to train in military tactics and would form the core of Umkhonto we Siswe (Spear of the Nation), the guerilla unit of the ANC that Mandela commanded.
The ANC's links with China can also be seen in the fact that many ANC guerilla fighters were trained in Tanzania, which drew most of its hardware and moral support from China. In his first trip outside South Africa, enroute to his own training as the head of the armed struggle, Mandela recalls meeting Tanzania's Julius Nyerere and being impressed by his socialist frugality.
It would appear that the Chinese leadership's reservations over the ANC's preparedness for armed struggle were not farfetched. This would be demonstrated in the swift arrest and imprisonment of many of the guerilla fighters trained in China. It is a testament to the difference in approach between the CPC and the ANC, the former based on rural uprising while the latter focused on sabotage strikes on urban installations. However, semblance is discernible in how their liberation struggles have been labeled the Long March in China and the Long Walk in South Africa.
When Mandela and his compatriots were jailed for life in 1964, China was among the countries that sent protest notes and called for their release.
Historians reflecting on Mandela's iconic status will probably identify not just his courage and integrity as distinguishing traits but also that throughout the 1980s the tenor of the global free Mandela campaign shaped his towering stature. In China for instance, Hong Kong-based pop group Beyond scored a big hit with the song Glorious Years, praising Mandela's life.
When he was released after 27 years in prison, one of the countries he visited was China. A picture in the ANC archives shows him on the Great Wall.
Given these historical ties, one can appreciate Mandela's severing of ties with Taiwan in 1998 during his tenure as South Africa's first black president and embracing the one-China diplomatic policy.
The writer is a PhD candidate at Communication University of China and visiting researcher at the University of the Witwatersrand, Johannesburg. The views do not necessarily reflect those of China Daily.