Renminbi rising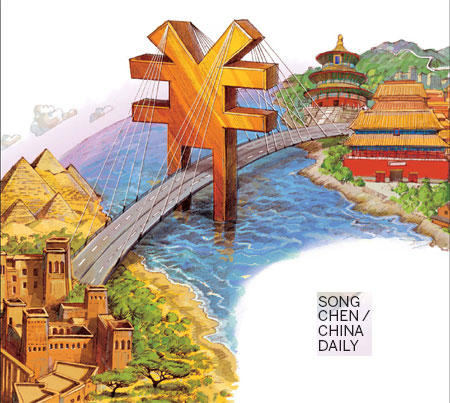 More African nations may start using Chinese currency for trade settlements
African nations seem to have the best chance of grabbing a major chunk of the growing renminbi, or yuan, trade settlement business, experts say.
Indications that the renminbi is well on its way to becoming an "international" currency heightened after major currency trading centers such as Paris, Luxembourg, Frankfurt, Sydney and Dubai all expressed interest in becoming offshore yuan-trading centers. Major money markets such as Hong Kong, Taipei, Singapore and London are already part of the lucrative offshore yuan-trading club.
Financial experts say that African nations such as South Africa, Mauritius, Nigeria and Kenya stand to gain from the growing trade volumes and ties between China and Africa.
Fan Bing, managing director at Standard Bank, China, says that internationalization of the renminbi is inevitable and Africa, more than anywhere else, is the most fertile terrain for the Chinese currency.
"There is no doubt that renminbi-denominated products will blossom in Africa, but the speed may vary from country to country with Mauritius, Nigeria and Kenya ahead of others," says Windsor Chan, deputy general manager of China Construction Bank in Johannesburg, South Africa.
Rapid growth
Though renminbi usage is still in its infancy in Africa, it is expected to see a rapid increase soon, experts say.
In 2012, renminbi settlement deals in Africa accounted for just 0.5 percent of the continent's total trade transactions with China, valued at around $200 billion, according to Peter Sun, managing director for transaction banking, Africa, at Standard Chartered. According to the lender, by 2015, nearly 40 percent of trade transactions between China and Africa will be settled in renminbi.
Wei Jianguo, former vice-minister of commerce and now secretary-general of the China Center for International Economic Exchanges, says Africa is likely to replace the European Union as China's biggest trade partner in three to five years.
State Bank of Mauritius, the second-largest bank in Mauritius with a market share of about 25 percent of domestic banking assets, recently teamed up with the Bank of China and imported 5 million renminbi ($815,000) in cash to meet the growing demand for the Chinese currency in the African nation, according to media reports.
It also became the first bank in Mauritius to provide renminbi cash services to financial institutions, thereby giving it an edge over its main competitor Mauritius Commercial Bank.
"Mauritius, with a free flow of dollars and trading with other African countries, is becoming a new regional treasury center, as many companies in Africa are moving there from the traditionally preferred centers like London and Dubai," Sun says.
In March, South Africa signed a memorandum of understanding with the People's Bank of China for a $1.5 billion quota of investment in China's interbank bond market.
"South Africa, with its infrastructure and sophisticated financial system, is also a good candidate for being the offshore renminbi center in Africa. However, the foreign exchange control regulations in South Africa could be a disadvantage for future development," Chan says.
In West Africa, Nigeria became the first country to incorporate renminbi in its foreign reserves and had assets of more than $500 million in Chinese currency by the end of last year.
Analysts say that China and African countries also need to develop more currency swap agreements, as it would help businesses and governments to conduct more trade settlements in the Chinese currency.
Li Dongrong, vice-governor of the People's Bank of China, last year indicated that China was keen on using renminbi for trade settlement and investment in Africa, and urged African central banks to increase their yuan assets.
In July, African central banks were given access to renminbi-denominated bonds for the first time after China Development Bank Corp allocated them a purchase quota of three-year bonds, viewed as an important development in renminbi's wider use globally.
However, some experts say that the lack of liquidity and high fluctuation in the foreign exchange markets are major hurdles in developing major renminbi trading centers in Africa.
"There is not much of renminbi liquidity in the regional trade within Africa. Banks remain cautious and the dollar is still the major denominated currency. Africa is still lagging behind Asia and Europe in terms of trading infrastructure and liquidity in renminbi," Chan says.
Ravi Menon, managing director of the Monetary Authority of Singapore, says: "There is no doubt that the renminbi is gaining international recognition and that there is demand for it outside of the Chinese mainland.
"The expansion of offshore renminbi-funding centers, as well as the setting up of swap lines between the People's Bank of China and various central banks, including the latest agreement with the UK, bear evidence to this."
He says a stable and thriving Chinese economy is the best foundation on which to further the use of the yuan globally.
Zhang Lei, general manager of the global payment and clearing division at Bank of China, says: "The internationalization of the renminbi has entered a critical period as its usage is strengthening in regions outside the Asia-Pacific."
Strong contenders
Though there are several contenders, European cities still stand better chances of bagging renminbi settlement deals, Zhang says.
The Frankfurt-based European Central Bank is likely to enter into a swap agreement with the People's Bank of China for as much as 800 billion yuan, Bloomberg reported last month, citing prominent lobby group Frankfurt Main Finance.
The deal, four times the 200-billion-yuan agreement signed in June between the Bank of England and PBOC, is expected to give central banks from the eurozone access to renminbi funds.
French President Francois Hollande said earlier that the Bank of France and the PBOC would soon reach a deal over a currency swap agreement within the framework of the ECB.
Nearly 10 percent of the commercial transactions between China and France are currently settled in renminbi. Banking deposits in renminbi in Paris have amounted to about 10 billion yuan, the second-largest pool of such deposits in Europe, according to Paris Europlace, a professional association that supports the French financial industry and promotes Paris as an international financial center.
Zhang, however, feels that the eagerness and readiness of Luxembourg is more obvious as it has already appointed BOC as the first renminbi-clearing bank in the country in early July.
Luxembourg, the world's eighth-largest financial investment center and Europe's biggest fund management center, had secured renminbi deposits of 20 billion yuan by January, the highest in the eurozone. Renminbi loans extended in Luxemburg reached 30 billion yuan, while local fund industries manage renminbi assets of 200 billion yuan.
The largest offshore renminbi center, Hong Kong, which accounts for 70 percent of overseas yuan deposits, held deposits of 698.5 billion yuan by May, according to data released by Hong Kong Monetary Authority.
Joachim Nagel, member of the executive board of the Deutsche Bundesbank, says the strong trading position between Germany and China has generated enough momentum for setting up an offshore renminbi-trading center in Frankfurt.
"I believe the renminbi will develop into a global reserve currency. There is intense competition in the financial world for being a part of the renminbi trading system," Nagel says.
"The renminbi is a big currency and will play a bigger role in the future. I think the market is big enough to have multiple renminbi-trading centers."
Philippe Mongars, deputy director of the market operation department at the Bank of France, feels that there would not be too much competition among the major European financial centers, as currency swap deals will serve as a back-up facility when there is a serious liquidity shortage of the yuan in the eurozone, and also negates the need for an alternative funding source.
Wim Raymaekers, head of banking market at the Society for Worldwide Interbank Financial Telecommunication, says financial institutions in the UK, France and Germany are now increasingly adopting the renminbi to support trade settlements by their corporate customers.
Outside of Europe, Dubai is likely to become another major offshore renminbi-trading center as it refocuses on its roles as a regional hub for trading, logistics and tourism, says a recent report published by Standard Chartered Bank.
Financial institutions in Dubai have been actively participating in renminbi deals, facilitated by the 35-billion-yuan currency swap agreement signed last year between China and the United Arab Emirates. The Dubai International Financial Centre has already introduced a payment system to allow clearing and settlement in renminbi.
In 2010, Beijing launched an ambitious project to float the renminbi globally by allowing companies worldwide to settle their international trade in the Chinese currency.
Despite the increase of renminbi centers worldwide, the dominance of Hong Kong won't be threatened, as the biggest proportion of renminbi flows are still conducted through the special administrative region of China, says Piyush Gupta, chief executive officer of DBS Bank, Singapore's largest commercial bank.
George Chin, a professor at York University in Toronto, says central banks, governments and private investors are seeking alternative foreign exchange reserves and investment options, and for traders, there are cost efficiencies to be gained by shifting to yuan settlement.
Yuan advantage
Raymaekers, from SWIFT, says the internationalization of the yuan will continue to increase in the near future, albeit with some cyclical volatility.
The Chinese currency is ranked 13th globally among world payments currencies, up from 20th in January 2012.
An index compiled by Standard Chartered that tracks the progress of the yuan business rose above 1,000 points for the first time in May.
The lender, however, indicates that overseas activities of the Chinese currency might soften in the second half, as renminbi current account inflows into offshore markets ease due to the pauses in onshore yuan appreciation.
According to a survey conducted by Bank of China in June, nearly 80 percent of its 3,000 clients said they use renminbi as they have trade relations with the Chinese mainland and would like to settle transactions in the Chinese currency, while most of the overseas clients ranked stability of the yuan exchange rate as the top factor that would influence their choice of using the currency.
There are, however, limits to how far the renminbi can be internationalized through offshore channels, or via limited offshore-onshore options, Chin says. "China should not be hasty in appointing clearing banks in offshore sites."
The BOC survey also showed that 90 percent of the total renminbi settlements were related to companies located in the mainland, or firms with a mainland background.
"That means only 10 percent of the renminbi settlements happen between the overseas third parties, among which most are companies from Hong Kong and Macao," says Cheng Jun, general manager of the corporate banking unit at BOC.
Mark Boleat, policy chairman of the City of London Corporation, which oversees the running of London's business district, says that opening up the capital account and making the renminbi fully convertible is a must for a prosperous offshore market.
He says the quotas for the renminbi qualified foreign institutional investor program need to be further extended to promote offshore-onshore circulation of the currency. Beijing on July 12 announced an expansion in the quota to $150 billion from $80 billion, and said the pilot program will now include Singapore and London, with Hong Kong and Taiwan already having joined the plan. The quota was set at 270 billion yuan in November last year.
The PBOC also announced in July a set of measures to loosen controls on cross-border renminbi flows under both the current and capital accounts.
According to the new rules, domestic firms can apply to domestic banks to disburse yuan overseas, while multinational companies can utilize a yuan capital pool framework to do the same.
In addition, qualified domestic banks can provide renminbi financing to foreign banks for one year, in contrast to the previous limit of only one month.
"If China opens up the capital account more aggressively, development of the renminbi market will surely thrive at an unprecedented pace. But we need to question whether it is necessary and worthwhile," says a general manager of the Singapore branch of a Chinese bank, who declined to be named.
"None of our clients have complained of any inconvenience in moving renminbi in and out of the mainland, which proves that the current regulation basically matches with the demand of offshore market players."
According to Paul Jenkins, a fellow with the Center for International Governance Innovation and former senior deputy governor of the Bank of Canada, success in opening the current account will also require macroeconomic policy platforms in China with clear goals and accountabilities. It is when there is a lack of clarity, or a perceived vacuum, about policy objectives and framework that the problems in managing capital flows can arise.
Chin, however, says: "Further capital account liberalization, and related financial liberalization, are necessary but not sufficient conditions for greater global use of the renminbi. The Japanese yen is fully convertible, and has been for a while, but its international use is still limited."
He says other factors also greatly influence the future global use of the renminbi. Financial infrastructure upgrades are needed to make transactions in the currency more efficient and secure globally, and whether or to what extent China's own banks will come to be involved in driving its global use need to be determined.
Zhang Weiwu, general manager of the Industrial and Commercial Bank of China's Singapore branch, says that apart from the naturally breeding market demand, product innovation of the lenders and the guidance they give to clients would play a big role in promoting wider acceptance of the Chinese currency globally.
Internally, China is also speeding up reforms to make its financial markets more effective. In a recent statement, the PBOC said it would push ahead with interest rate marketization and reform of the exchange rate formation system to keep the yuan's exchange rate "basically stable on a reasonable and equilibrium level".
The recent credit and liquidity squeeze in China has affected the offshore market and there have been demands for deepened reform of the onshore rates, says a report from the ANZ Banking Group.
"By lowering China's benchmark interest rate, the offshore-onshore interest rate can be narrowed," it said. "This will help alleviate the pressure of strong capital inflows. It will also help promote a healthier development from the perspective of the renminbi internationalization as the current account channels will not be misused for capital account transactions."
China will also have to accelerate its capital account liberalization and ensure money flows into proper channels, the report said.
"Before it does that, however, China should liberalize its onshore interest rate market under the flagship interest rate liberalization so as to align market interest rate to an appropriate level. Only through correct policy sequencing can financial stability be safeguarded."
Menon, of the Monetary Authority of Singapore, says: "As the use of renminbi expands over time in the region, there will be room for more than one offshore renminbi center. Each center will have its own niche and strength."
Contact the writers at wangxiaotian@chinadaily.com.cn and lixiang@chinadaily.com.cn