Giant steel firm grapples with toughest times in five years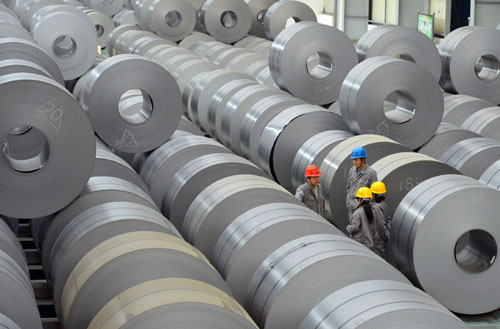 Quality inspectors register the serial numbers of cold rolled steel sheets at a Tangshan workshop of Hebei Iron & Steel Group Co Ltd in November last year. Hebei Iron & Steel plans to double annual revenue by the end of 2015 without adding any production capacity. Provided to China Daily
China's largest iron and steel group is determined to cut output and upgrade production as it copes with the toughest market conditions since 2008, said Kong Ping, the vice-president of Hebei Iron & Steel Group Co Ltd.
The iron and steel industry is in much worse shape than it was a year ago, with more excess capacity and bleaker financial conditions, he said.
A high debt ratio is also a threat for State-owned Hebei Iron and Steel, because the central bank may keep liquidity tight in the short term, according to Kong.
"The bottom line is to ensure our capital chain doesn't break in the short term," said Kong. "In order to maintain normal production, we will try any method to control costs."
The iron and steel giant, which was created through the June 2008 merger of Handan Iron & Steel Co Ltd and Tangshan Iron & Steel Co Ltd, said revenue fell 7.83 percent in the first quarter to 26.86 billion yuan ($4.38 billion). Net profit slid 87.82 percent to 43.8 million yuan.
Kong said there will soon be "a new round of mergers and acquisitions in the iron and steel industry".
Iron and steel supplies far outweigh demand. The industry's capacity utilization ratio is only 72 percent, said Kong. The global rule of thumb is that any industry with a capacity utilization ratio below 78 percent has excess capacity.
Ding Yue, an analyst at China International Capital Corp Ltd, said the industry's profitability in the second quarter probably worsened. Ding said losses will widen further in the third quarter, because the supply-demand gap is expanding.
Zhu Haibin, the chief China economist at JPMorgan Chase & Co, said that excess capacity and weak investment activity in the manufacturing sector contributed to the nation's first-half economic slowdown.
"Decelerating economic growth can cut enterprises' income, which is expected to increase the risks associated with corporate debt, especially for highly leveraged companies," Zhu said.
A report from the China Iron and Steel Association said that price declines for iron ore and other raw materials used by the steel industry accelerated in May. These conditions indicate weak support for steel prices.
"As excess supply is difficult to reduce and increasing international trade friction may lower exports, steel prices are likely to be at a low level this year," the CISA report said.
The United States decided on June 13 to retain anti-dumping duties on imported concrete reinforced bars from China. The US also started anti-dumping investigations into imports of Chinese-produced PC steel wire on May 14.
Separately, Australia launched anti-dumping and anti-subsidy investigations into China's exports of galvanized products; and some Southeast Asian countries also imposed restrictions on imports of Chinese steel products.
CISA said Chinese iron and steel exporters will find conditions becoming more difficult. It suggested that these manufacturers should curb production capacity and adjust their product structure.
"We will focus on the domestic market in the near future, and promote profitability that depends on improved quality. Blind pursuit of size will put more pressure on profits," Kong said.
The group plans to double annual revenue by the end of 2015 without adding any production capacity.
"The restructuring will be based on product upgrades targeting the high-end market," Kong said.
Hebei Iron and Steel's new product range includes vehicle steel plates, steel for nuclear power plants and large items for marine equipment.
"The market requires high-strength, long-life new products that resist corrosion, pushing us to improve our technology and increase the ranks of skilled employees," Kong said.
To reduce raw material costs, the group is constantly looking for opportunities to invest in overseas mines.
"We prefer equity investment when we are talking about cross-border cooperation," said Kong. "The investment proportion may not be large, but we target raw material prices to be 5 to 10 percent lower than the market level."
Overseas products should yield at least 12 percent return on equity, he added.
Hebei Iron and Steel has invested in mines in countries including Brazil, Canada, Australia and the Republic of Congo.