Egypt Islamists continue rallies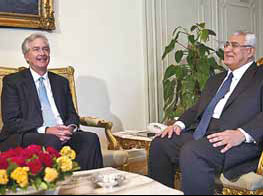 Egyptian interim President Adly Mansour (right) meets US Deputy Secretary of State William Burns in Cairo on Monday. Burns was in Cairo to press for a return to elected government following Mohammed Morsi's overthrow. Khaled Desouki / Agence France-Presse
Senior US official visits as Morsi supporters call for his reinstatement
A senior US official was in Cairo on Monday to press for a return to elected government following the overthrow of president Mohammed Morsi, as the Islamist leader's supporters and opponents readied rival rallies.
US Deputy Secretary of State William Burns arrived in a divided capital where both sides are furious at the United States, the superpower which supports Egypt with $1.5 billion in annual aid, mostly for the army that deposed Morsi as president.
Egypt's new leaders are pushing ahead with a transition plan for an interim government and fresh elections, but Morsi's Muslim Brotherhood defiantly insists on his reinstatement.
The US State Department said Burns would stress in his two-day visit US support for Egypt's people and an inclusive democratic process in which all political groups can participate.
A Muslim Brotherhood official said the group is not currently scheduled to meet with Burns.
In the Sinai Peninsula, three factory workers were killed in a rocket-propelled grenade attack, medics said, in the latest in a spate of deadly attacks since Morsi's overthrow to hit the sensitive and increasingly lawless region bordering Israel.
Crisis in the Arab world's most populous state, which signed a peace treaty with Israel in 1979 and straddles the strategic Suez Canal, has alarmed allies in the region and the West.
Washington is torn between its professed support for democracy and its clear uneasiness at the rise of Morsi's Muslim Brotherhood, so far undecided on whether Morsi's removal was a coup, which would require it to halt its aid.
Abdel Khalid Abu Zeinia, a 50-year-old accountant who has maintained vigil for 11 days with other Morsi supporters at mosque square in northeast Cairo, said of Burns's visit: "The US works against the Egyptian people's interests. The only concern of the US is its interests and Israel's. It offers only words, not practical support to democracy."
If Burns is driven through downtown a few miles away, where Morsi's foes mostly gather, he will see a giant banner with a portrait of US ambassador Anne Patterson overwritten with the message "Go home, witch!"
Demonstrations in Cairo have been largely peaceful in the past week after at least 92 people were killed in the days after Morsi was toppled.
As thousands of protesters assembled on Monday, a group of women clapped and chanted: "Down with the military regime! Down with the dictator! President Morsi, no one else!"
Demonstrators fasting for the holy month of Ramadan rested in the shadows of tents reading Qurans. Army helicopters flew above overnight, dropping flyers exhorting the crowd to renounce violence and end their sit-in.
Morsi is being held in isolation at an undisclosed location while a transitional government sets up under a military backed "road map", which foresees a new constitution and parliamentary elections in about six months.
Morsi has not been charged with a crime, but the authorities say they are investigating him over complaints of inciting violence, spying and wrecking the economy.
The interim prime minister, a liberal economist, named senior ministers on Sunday, including a former ambassador to the United States as foreign minister, a sign of the importance Cairo places in its relationship with its superpower sponsor.
Reuters-AFP-AP