Egypt's Islamists stage mass rallies against Morsi's ouster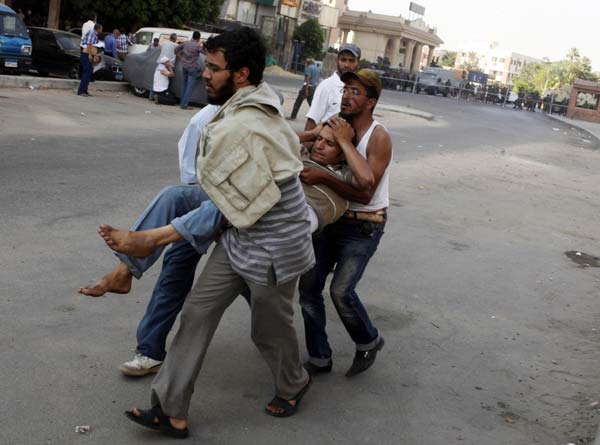 Protesters, who support former Egyptian president Mohammed Morsi, carry an injured man during clashes outside the Republican Guard building in Cairo on Friday. Asmaa Waguih / Reuters
Tens of thousands of supporters of Egypt's Muslim Brotherhood on Friday protested in Cairo in mass rallies called to reject the military's ouster of Islamist president Mohammed Morsi.
"May God bring Morsi back to power," and "May God end the rift between us and the army," the imam leading prayers told worshippers at the biggest rally outside Rabaa al-Adawiya mosque.
As thousands of flag-waving Morsi supporters also thronged to Cairo University, opponents of the deposed president called on people to "mobilize in Egypt's squares".
Shortly before the rallies, around a dozen low-flying military jets screeched across Cairo, a day after they staged a parade leaving a trail of smoke in the shape of a heart in the sky.
The call for "peaceful protests" across Egypt came from the Brotherhood's newly formed National Alliance to Support Legitimacy. In a separate development, the African Union on Friday suspended Egypt from membership in the continental body.
AU Commission head Nkosazana Dlamini-Zuma told a news conference in the Ethiopian capital, Addis Ababa, that the removal of Morsi on Wednesday falls under the AU doctrine on unconstitutional changes of government.
AU officials decided on Friday to block Egypt from all activities of the continental body until constitutional order is restored in the nation, she said.
AFP-AP