Dell's new $24.4b 'chapter' could be opening for rivals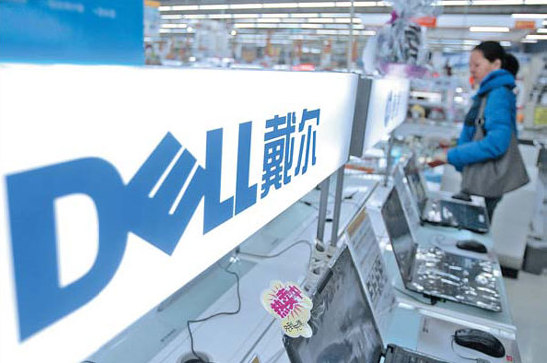 A Dell computer counter in a shopping mall in Nantong, Jiangsu province. Dell's market share in China was around 7 percent by the end of 2012. Provided to China Daily
Now that a long-anticipated deal to put Dell Inc into private hands has been reached, experts expect the PC maker will get breathing room to try to build its business while rivals gain the opportunity to snare a bigger slice of the market.
Terms of the $24.4 billion deal announced on Tuesday call for Texas-based Dell to be acquired by founder and CEO Michael Dell and Silver Lake Partners, a California private-equity firm that invests solely in the tech industry.
Dell was most recently ranked the world's No 3 maker of personal computers, behind US-based Hewlett-Packard Co and China's Lenovo Group Ltd, according to industry researchers Gartner Inc and International Data Corp.
In the third quarter of last year, Lenovo overtook HP to become the biggest PC maker by shipments, but the two companies have since swapped places. Dell, however, hasn't made much headway in a market where it was once strong.
Michael Dell, who owns 14 percent of the company's shares and will remain chairman and CEO, said the deal "will open an exciting new chapter" for Dell Inc and "deliver immediate value to stockholders".
The deal is subject to review by Dell shareholders.
Strong competitor
But the new "chapter" for Dell could also provide an opening for competitors such as Lenovo to add market share, said Jay Chou, an analyst at IDC.
The going-private transaction comes at a "much-needed time" for Dell, he said.
"It's something that is very hard to integrate, especially when you have made so many acquisitions," Chou said, pointing to Dell's recent history.
He expects the company will end up ceding ground in the production of PCs for consumers while building up a more-profitable business by catering to businesses.
Dell's PC market share in China was around 7 percent at the end of 2012, while Lenovo had more than 30 percent of the market, industry research company Canalys said.
In the short term, Dell is unlikely to make any significant investments in new product segments or markets, said Nicole Peng, research director at Canalys China, based in Shanghai.
Yet it will be "a good opportunity" for Lenovo and other major competitors to slow the growth of Dell for a certain period, Peng said.
Lenovo, which on Jan 30 announced a quarterly net profit 34 percent ahead of last year, issued a statement regarding Dell's going-private deal on Tuesday.
"The financial actions of some of our traditional competitors will not substantially change our outlook," it said.
"We are focused on our products, customers and overall execution rather than distracting financial maneuvers and major strategic shifts. This focus is an advantage for us and a benefit to our customers."
Lenovo's strategy of "protect and attack" aims to shield the two huge profit centers - commercial PC sales and the Chinese market - while the company moves into new markets with new products like smartphones and tablets.
One market the company is "attacking" is service to small and medium-sized businesses, including those in North America.
"This focus on building the brand and becoming a relevant consumer brand globally is a key to our future growth," Gerry Smith, president of Lenovo North America, told China Daily.
Chou from IDC said: "Ultimately, this is an acknowledgement on Dell's part that they don't want to and cannot compete, and their bread and butter is commodity PCs."
He added that, unlike Lenovo, Dell is set to make progress in producing digital gadgets such as tablet computers and smartphones.
Microsoft involvement
In addition, US software giant Microsoft Corp is contributing a $2 billion loan to the buyout, triggering analysts' estimates that the deal may further stir up the software industry.
Microsoft's involvement seems to reflect some of the investment that Microsoft has made into Nokia Corp in the mobile phone segment, said Peng, adding Microsoft is attempting to use Dell as a "test bed" for its future products.
David Johnson, an analyst at US-based research firm Forrester Research Inc, said: "Microsoft needs more supply-chain expertise and capacity for PC hardware, and needs more dedicated focus from an original equipment manufacturer, such as Dell, to execute on a strategy of better integration between the operating system and hardware."
Microsoft will also need an enterprise channel for hardware sales and support for in-house hardware, Johnson said.
The company said the loan is meant to support "the long-term success of the entire PC ecosystem".
Contact the writers at yuweizhang@chinadailyusa.com and gaoyuan@chinadaily.com.cn