Economic growth gaining momentum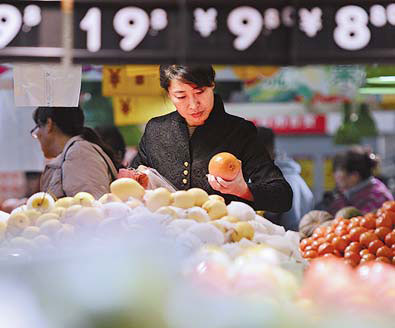 A customer checks fruit at a supermarket in Yinchuan, the Ningxia Hui autonomous region, on Friday. Ample food supplies helped inflation ease to a 33-month low. Wang Peng / Xinhua
Economic growth showed signs of recovery in October, generating optimism that the country could achieve its annual growth target of 7.5 percent.
Growth last month was driven mainly by industrial production, fixed-asset investment and domestic consumption.
The consumer price index in October, a key measure of inflation, was 1.7 percent year-on-year, the lowest in 33 months.
The National Bureau of Statistics reported on Friday that industrial production grew 9.6 percent year-on-year in October, its best performance in five months.
Investments in fixed assets such as building public infrastructure and factories increased 20.7 percent in the first 10 months of the year, compared with 20.5 percent in the first nine months.
Retail sales of consumer goods saw growth of 14.5 percent in October, compared with September's 14.2 percent.
Earlier this year, China set its yearly GDP growth target at 7.5 percent. GDP grew 7.4 percent in the third quarter, but economists predict the fourth quarter will see more robust growth.
Ma Jiantang, head of the National Bureau of Statistics, said he has confidence in a better economic environment in the last three months of the year.
Nomura Securities forecast that GDP growth may rebound to more than 8 percent in the fourth quarter.
"The macroeconomic data are likely to remain strong through the rest of the fourth quarter as policy easing continues via bank loans, trust loans and bond issuance," said Zhang Zhiwei, chief economist for China with the Japanese securities company.
There have been more recent signs of a recovery, said Shen Jiandong, senior sales manager of Goldsun Textile Science and Technology in Jiangsu province.
"Sales for the third quarter have been better than the first two quarters, although they are still low compared with the same period last year," Shen said.
The fall in CPI was mainly attributed to higher supplies of food, which account for about one-third of the weighting in CPI calculations.
But as the weather turns cold, analysts warned, prices of meat and vegetables may rise in November and December.
Busier industries and lower inflation may bring about a recovery after a slowdown for seven consecutive quarters, said Liu Ligang, chief economist for China with the Australia and New Zealand Bank.
The last quarter may see GDP growth rise back to around 8 percent year-on-year, he said, and is expected to be followed by even faster growth in the first quarter of 2013, Liu said.
The producer price index, an indicator of future CPI, dropped 2.8 percent from a year earlier in October. It marked the eighth straight month of decline.
Contact the writers at chenjia1@chinadaily.com.cn and yuran@chinadaily.com.cn