Migration is a two-way street with benefits for all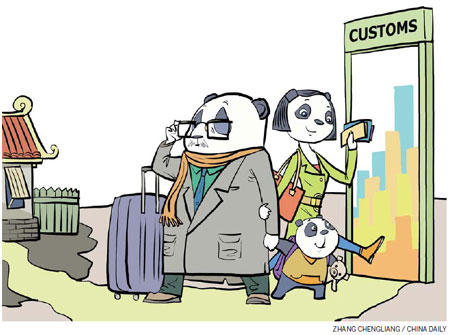 The huge numbers of Chinese opting to spend their lives in other countries is not necessarily a bad thing
A few months after my wife was born in Shanghai in 1954 her father Fang Hanqi was appointed professor in the Journalism Department of Peking University. So she was raised in Beijing, where in 1966 she was caught up in the "cultural revolution" (1966-76), as her school was closed and bands of young people calling themselves Red Guards appeared on the streets of Beijing. A few years later she followed her father to a poor part of Jiangxi province where she worked on a farm for two years, carrying stones and helping villagers perform their daily tasks.
She was fortunate that shortly after she returned to Beijing later in the 1970s she was appointed to the arts and crafts bureau of the government, where she was able to become involved in China's rich cultural life. But as soon as it was possible to leave China, in 1980, she set off for the United States, the fabled land of opportunity, to find her fortune.
It is understandable that Chinese adults who were able to leave China in the early 1980s wanted to do so. Most had grown up in a harsh economic environment, and many had experienced violence, either physical or mental.
And throughout China's long history, during times of war and economic hardship, waves of Chinese have migrated to other countries in Asia, as well as Africa, Europe, North America and Australasia. Today most countries can demonstrate Chinese communities at least several centuries old.
But why, since 1990, have the numbers of wealthy Chinese migrating to developed countries such as Australia, Canada and the US steadily increased, to the point that today it is estimated that 25 percent of wealthy Chinese now live outside China?
Many Chinese emigrants say that they are leaving for their children's sakes, to escape the narrow and harshly competitive Chinese educational system for the broader and often less demanding programs on offer at universities in Australia, Canada, Europe and the US. It is also desirable to be able to develop English skills alongside students for whom English is a first language.
France's unsuccessful efforts since the 1950s and 1960s to promote French to stand alongside English as a global language only serve to demonstrate the supremacy of English as the principal means of global communication.
Although the numbers of students from developed countries who are learning Chinese has grown enormously, Chinese is unlikely to come to rival English as the second language of choice around the world, so learning English is important for an ambitious young Chinese person.
But is this why 60 percent of China's economic elite say they are thinking of emigrating from the country of their birth? The air pollution in China's cities certainly has something to do with it. It is also noteworthy that many wealthy Chinese emigrants return frequently to China to pursue business activities, whether in real estate, import-export or manufacturing.
So it would appear that wealthy Chinese who have made and continue to make their money inside China are not leaving the country for economic reasons. Rather, the opposite is true: it is China that continues to be the source of their wealth.
But moving to other large economies may provide new opportunities to develop other sources of wealth that are independent of the Chinese economy. Diversification protects wealth by reducing the risk of loss that may arise in one country or in one economic activity. A shipping magnate can maintain his wealth if he invests in real estate in New York or London, which holds its value at a time, like today, when the world container shipping industry is in oversupply and prices are at historic lows.
The Hong Kong businessman Li Ka-shing, who made his first fortune in Hong Kong real estate, now has worldwide interests in a wide range of businesses, including natural resources, telecoms and ports. But he has not moved to the US or Europe. He still lives in Hong Kong, demonstrating that it is possible to stay at home and still have a finger in the global pie of business opportunities.
Perhaps, then, it is not economic opportunity, but that indefinable factor "quality of life" that persuades most wealthy Chinese to emigrate. Many say they feel insecure in China. But how is that possible in a country with such a well-trained, numerous and active police force? Is it because they are frightened that their wealth will evaporate?
In any case, it is interesting to note that, according to the latest statistics produced by the Organization for Economic Cooperation and Development, while China supplied 9 percent of global immigration into OECD countries in 2009, the proportion of the Chinese population leaving China to settle elsewhere was much lower than for many other countries, including the US.
So although Australia, Canada and the US, favorite destinations of Chinese migrants, are all tightening up their requirements allowing Chinese immigration, it is the result of the size of China's population, rather than any special desire by Chinese to leave their own country.
In fact, economists regard the ease of labor migration as a key factor in economic growth. As economic opportunities emerge, they encourage growth that creates a demand for labor of different kinds that can only come from outside. The capacity for discipline and hard work brought by the many millions of Chinese migrants to south-eastern China starting in the 1990s made possible the Chinese manufacturing and export miracle, while waves of English-speaking, highly educated Indian immigrants to the US have made a vital contribution to the success of California's software industry.
Who is to say that Chinese emigration is bad, if it encourages Chinese economic diversification at the same time as the globalization of Chinese culture?
As China continues to develop, grow and open up to the world, it is inevitable that Chinese will migrate to other countries, just as increasing numbers of foreigners, attracted by the economic opportunities that China offers, will come to China, and will stay as they learn to speak Chinese and appreciate China's cultural richness and quality of life. And as China's environment gradually improves, foreign immigration into China will probably increase. Migration is inevitable, and increasingly important to the economic and cultural well-being of a globalized world.
The author is a visiting professor at Guanghua School of Management, Peking University. The views do not necessarily reflect those of China Daily.