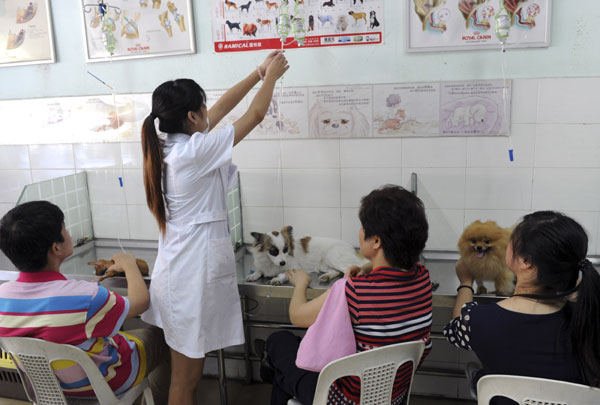 Accompanied by their owners, sick dogs receive treatment at a pet clinic in Fuzhou, Fujian province, in July. Liu Kegeng / China News Service
They can be big or small, with pedigrees or mutts, fluffy or scrubby, brisk or timid.
Whatever they are, it's estimated that China's pet care market will be worth $1.2 billion this year thanks to the country's growing affluence, according to consumer market research firm Euromonitor International.
And pets are benefiting from the booming market, with customized nutrition plans, regular health checkups, and yoga classes to keep fit.
"Increasing disposable incomes and the popularity of pets have greatly boosted the pet care services industry in China. More people are willing to spend money to support their loyal companions," said Tian Haiyan, director of the Beijing Guanshang Animal Hospital in Xicheng district. "More dogs in China are now truly living with their families as a member."
This view is echoed by Euromonitor, which estimates that a 35 percent jump in pet ownership was seen in the country since 2000. Some 33 million households keep a cat or a dog in China. The expenditure on pet care will reach 7.84 billion yuan ($1.23 billion) this year, a 46 percent increase since 2007, said the firm.
The London-based firm also estimates that the market will increase a further 64 percent by 2017, with 12.9 billion yuan expected to be splurged on pet food, healthcare and dietary supplements.
Tian's hospital is the city's first State-owned veterinary clinic. It was set up in 1992 in response to increasing demand from wealthy Chinese pet owners.
From bathing to teeth cleaning, and manicures to cataract surgeries, the hospital covers almost every pet care service you can think of.
"You name the service and we either have it or will be having it," said Tian.
Affluent owners
Zhao Zheng, a businessman from Shenzhen, Guangdong province, bought a horse from the Inner Mongolia autonomous region a year ago. He also has taken care of two cats for years.
Despite the fact that the horse is kept in a ranch 90 km away from his apartment, Zhao drives there twice a week to spend some "quality time" with it.
It costs about 2,500 yuan a month to house and feed the animal. However, Zhao spends an extra 500 yuan a month on special feed made with oats and black beans to ensure that the animal is robust.
In addition to the basic costs, Zhao has also hired a hostler and a private trainer for the horse so that the animal can get some exercise, for an extra cost of 1,800 yuan a month.
"I'm willing to invest in my horse since I treat it as a family member," Zhao said. "Sometimes the animals are great friends, even more than people."
He also spends some 5,000 yuan on his two cats every month, including cat food, cat sand, medication, fur-trimming, perms, pedicures and pet toys.
"It's just like parents cherish their kids," he said.
In addition to the affluent people who love pets and are willing to splurge on them, older people, usually after their children leave home, are also major customers of pet services businesses.
Meng Hairong from Tianjin has been living with her poodle for years after retirement, which she describes as her daughter.
"With our only child working in another city, the dog has been a great companion for us," Meng said. "She's just like a family member and there's no reason not to treat her well."
Tian said the hospital will further expand its heart and brain surgery services, as more owners are willing to pay for expensive surgery, as well as other services, when their beloved companions fall ill.
"There are some 300 pet hospitals and clinics in Beijing, three times more than 10 years ago," said Tian, who is also the vice-president of the Beijing Small Animal Veterinary Association.
"The cost of treating pets is as expensive as it is for human beings, with some surgeries even more costly than those for their owners," said Tian.
Diversified services
Besides medical care, the hospital also provides day care services for 50 to 80 yuan per day, depending on the size of the pets.
There has been an increase in the number of dog day care services recently, especially for office workers who cannot be with their pets during the day yet do not want them to be left home alone, Tian said.
According to Ning Wei, 34, director of Bobopet - a dog day care center in the eastern part of Beijing that houses about 150 dogs - the number of day care centers for pets has increased tenfold compared with five years ago.
But in addition to the growing affluence, the industry is also booming because people love their pets, Tian said.
"Growing affluence allows people to spend more on their pets, but not all our customers are rich," Tian said. "Even those not very well off come to our center and ask us to take care of the pets, they come because they really treat the animals as family members."
In addition to the traditional pet care services, the market is becoming increasingly diversified.
Automaker Honda has come up with a design for a dog-friendly car. The vehicle has wider doors and a lower body to make it easy for dogs to get on and off.
Meanwhile, Petdog, which provides services for dogs, is considering introducing dog yoga, which is already available in Japan, to the Chinese market.
Not many pet owners are familiar with the service, but once it's advertised, there might be a huge market to tap in China, according to Petdog.
Booming industry
According to Vera Wang, a research analyst with Euromonitor in Shanghai, due to the growing affluence, pet owners are spending more on expensive products and services.
She estimates that sales of pet care products will expand 9 percent this year, compared with 6 percent in the United Kingdom, 4 percent in the United States and 3 percent in France.
According to the Boston Consulting Group, a global management-consulting firm, the Chinese mainland, with its 1.43 million millionaire households, grabbed third place in the 2012 Global Wealth Report released in May.
"In the past, when pets fell sick, the owners would likely not treat them since the owners could hardly feed themselves," said Tian.
"But people are now willing to spend more money, and we are getting better equipment to support our clients."
Shi Yalun, director of a company that represents Idexx Laboratories Inc - a corporation engaged in products and services for the veterinary headquartered in the US - agrees with that view.
Shi said that the market in China is seeing comparatively faster growth compared with other markets.
Shi said the sales of the animal product segment in China are seeing a steady annual growth of about 30 percent. And total sales have doubled compared with five years ago.
"We believe our business will expand in China," said Shi.
Contact the writer at zhengxin@chinadaily.com.cn.