China joins coffee club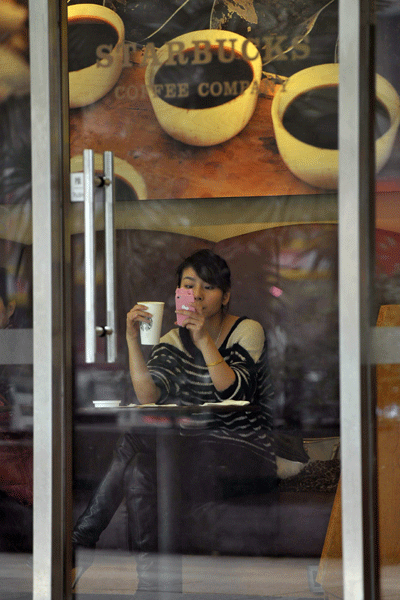 Young people from big cities are keen on coffee. They seek a lifestyle they associate with coffee rather than to enjoy the drink. [An Xin / China Photo Press]
The drink was labeled a 'capitalist product' and shunned from the 1950s to the 1970s, but it is now more popular than ever. Gan Tian reports in Beijing.
Zhao Hui only drank tea throughout the 1980s and 1990s. But after deciding to become a coffee importer in 2002, he thought he should try the product and has been a fan ever since. The 40-year-old Beijinger is now known as "Uncle Bean" and owns Horst Cafe in Fengtai district. It has a substantial store of coffee beans, including Colombian Special, of which just 3,000 bags are produced a year.
Zhao says his story shows the coffee industry is booming.
There were people drinking coffee in Beijing, Shanghai and other big cities in China before 1949, but coffee drinking almost vanished from the 1950s to the 1970s, as it was considered a "capitalist product".
The only place a cup of coffee could be found were high-end cafes where foreign diplomats visited, like Beijing Diaoyutai State Guest House and Shanghai Peace Hotel.
Over the past three decades, this situation has changed dramatically.
Nestle, which entered China in the 1980s, introduced instant coffee and its distinctive yellow package of the instant beverage became well known.
Li Yueying, a 53-year-old housewife in Beijing, says her earliest memory of coffee is Nestle, whose advertisements were broadcast during TV soap opera breaks.
In the 1990s, Starbucks arrived, making freshly ground coffee popular. Chinese working and studying abroad picked up the coffee habit and sustained it after they returned home.
Cao Hailun became a coffee fan while studying in New York. The 24-year-old believes coffee drinkers are easygoing, stylish and Westernized. And she wants to be one of them.
After Cao returned to Beijing in 2009, she made a habit of going to Starbucks in the morning before rushing to the office. She doesn't need breakfast, but a cup of coffee is essential, she says.
In 2007, Nespresso opened a boutique store in Beijing's Shin Kong Place. It's a high-end brand, offering an espresso bar as well as coffee machines and accessories, including limited-edition coffee machines, cups and trays.
"It was definitely good timing, because 2007 marked the takeoff for high-end coffee on the mainland, especially in first-tier cities," Nespresso China country manager Manuel Sancho says.
Nespresso's mainland market has ranked ninth in the world for the past two years.
Many Chinese urbanites expect companies to educate them on how to drink coffee, which is why there are many organizations working on coffee education, such as Zhao's Horst Cafe.
Since opening in 2010, the cafe has provided a series of coffee appreciation courses for more than 15,000 young drinkers.
Uncle Bean teaches the "bean-to-cup" classes himself, and he is also a member of the Specialty Coffee Association of Europe.
The China Coffee Association of Beijing (CCAB), a government organization, was founded in 2003 to promote coffee. It has published a report showing the past 20 years have marked the rapidest increase in the number of Chinese coffee drinkers ever.
Coffee beans are produced in China, in places like Yunnan and Hainan provinces, CCAB chairman Ji Ming says.
"It is a huge industry, and it is still growing."
Even so, Ji says most Chinese drink coffee because of its lifestyle associations, rather than to enjoy the drink itself.
"For example, one of my friends thinks a cup of good coffee should be bitter," Ji says. "But, actually, good coffee should be neither bitter nor sour. An experienced coffee drinker savors various flavors - fruity, flowery, chocolaty or nutty. Most Chinese coffee drinkers can't tell which is which."
Ji believes it will take another 10 years for Chinese people to "really appreciate" coffee, and this will improve the market.
There are 10 million people involved in China's coffee business, according to CCAB's figures. The organization has hosted the China International Coffee Industry Expo, attracting more than 50,000 people annually, since 2005.
You can contact the writer at gantian@chinadaily.com.cn.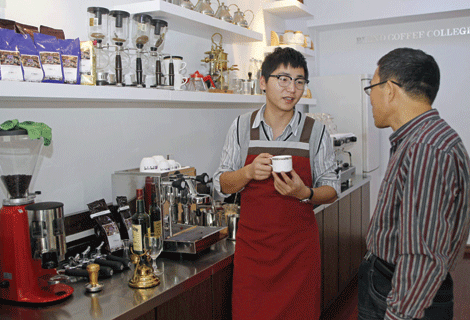 Huang Haiqing(left), from the Beijing-based Bolan Coffee Academy, trains a cafe owner from Guangdong province. [Feng Yongbin/China Daily]