Getting a shot at the coffee market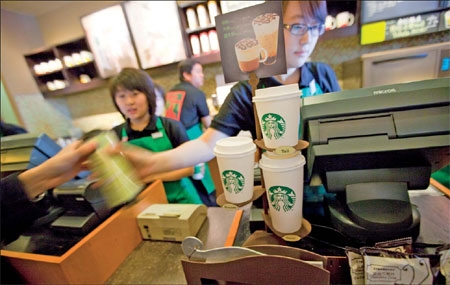 Servers help customers at a Starbucks outlet in Beijing. [

Nelson Ching / Bloomberg]
Starbucks china president buzzing about potential on mainland as it aims to open 1,500 by 2015
When Belinda Wong heard the news that she was to be appointed Starbucks China president in July, she says the first thing that came into her mind was when she could take up the position.
"Starbucks is building a really exciting growth story in China and I am really excited to be part of this development," Wong says.
Energetic by nature, the former general manager of the Starbucks business in Hong Kong for Coffee Concepts, a joint venture between Maxim's Caterers and Starbucks Coffee International, shows a lot of passion for her new role within the world's largest coffee chain.
The major mission for her is to help Starbucks fulfill its target of having 1,500 outlets on the Chinese mainland by 2015 from the current 550.
"As we grow in scale in China, we will also contribute to creating job opportunities in the cities where we operate. We estimate that Starbucks will triple its employment in China to 30,000 when we reach the goal," Wong says.
However, Starbucks is not the only coffee brand with ambitious expansion plans in China. The promising market has also attracted other players in the field, such as British brand Costa Coffee and Hong Kong-based Pacific Coffee Co.
Costa Coffee runs more than 120 stores in China at present, far fewer than Starbucks, but it aims to take a third of the market share on the mainland by expanding to 2,500 outlets by 2018.
Newcomer Pacific Coffee announced early last year that it will open about 50 stores by the end of this year mainly in four cities - Beijing, Shanghai, Shenzhen and Guangzhou.
Wong says that Starbucks respects its competitors and what they bring to the market.
"We believe that all of us in the industry play an important role contributing to the continued vibrant growth and development of the Chinese coffee market," she says.
As China is Starbucks' largest market outside its home in the United States, it accelerated the pace of penetrating the market here in recent years, including the signing of a co-partnership in November 2010 with Pu'er city, Yunnan province, where it grows and processes coffee beans and conducts scientific research on cultivation. The coffee plantation in Yunnan is the first of its kind globally, a move that will complete the coffee retailer's value chain, from coffee seed to brewed drink.
It also developed many products tailored for Chinese customers, including black sesame green tea, frappuccino blended creme, iced rice dumplings and Starbucks mooncakes.
"Our customers can definitely expect to see more locally relevant innovations across our food and beverage offerings," Wong says.
In April, the company introduced Starbucks VIA instant brew coffee in two flavors to China.
Sales of instant coffee in China increased 13 percent year-on-year in 2010 to 5.1 billion yuan ($810 million, 600.8 million euros), according to a report by the Euromonitor International, a London-based market research firm.
"We have never felt more confident about accelerating our growth momentum. Moving forward, we will focus on deepening our footprints in our first-tier city markets while expanding our presence in China's provincial capitals," says Wong after the 500th store opened in Beijing on Oct 25.
Wong says she thinks the coffee market in China is huge and even in the first-tier cities, "it is absolutely not saturated".
Wong joined Starbucks in 2000 after graduating in commerce from the University of British Columbia. She started as a marketing director for the Asia-Pacific region. During the past 12 years, she has held leadership positions across a variety of business units and geographies.
Her experience in brand management and formulating marketing strategies in different places, from Singapore to Hong Kong and Macao over the past few years, has earned her the necessary insights and credit to run the company's business in the important and promising market of the Chinese mainland.