Warning on sailing into waters of the privileged
Updated: 2012-02-10 11:05
By Lu Chang (China Daily European Edition)
| | | | | | | | | | | |
| --- | --- | --- | --- | --- | --- | --- | --- | --- | --- | --- |
|   | | Comments() | | Print | | Mail | | Large Medium  Small | 分享按钮 | 0 |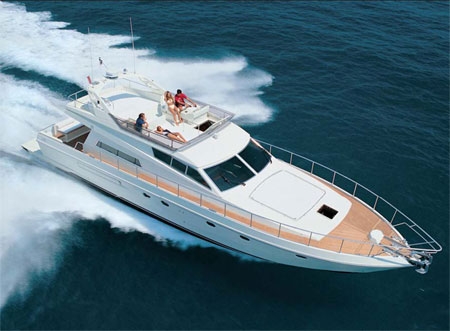 Italian brand Ferretti is famous for its luxury yachts. [Provided to China Daily] 
Chinese yacht makers should be cautious in what they buy
Chinese yacht makers should be cautious when they try to move up the value chain through acquisitions, especially when the global yacht market has stagnated, industry insiders warn.
"Many international yacht makers are searching for capital in China as they are feeling the pinch from the financial crisis, providing Chinese investors more opportunities to tap into the upmarket yacht industry through purchases," says Cheng Juehao, associate professor at the School of Economics and Management of Shanghai Maritime University.
"But it's a long march up the value chain for domestic yacht manufacturers. Buying high-end products doesn't result in fatter profits if they don't pay more attention to technological development."
The warning comes after a Chinese company moved to buy Ferretti, one of the world's largest builders of luxury yachts. Shandong Heavy Industry Group, whose businesses range from construction and agricultural machinery, marine diesel engines, to yacht making, signed an agreement to buy 75 percent of Ferretti Group on Jan 10.
The Chinese heavy equipment maker will pay 178 million euros for the stake and 196 million euros for debt financing, according to a statement issued by Ferretti, of Forli, Italy.
Debt-laden Ferretti, which owns nine brands, including Pershing and Riva, will have its capital fully restructured and its debt reduced to about 120 million euros and raise about 100 million euros in the new equity.
Tan Xuguang, president of Shandong Heavy Industry, said in the statement that the partnership will lead to satisfactory results, and "developing the yacht business is one of the group's strategic goals for the next five years".
Norberto Ferretti, chairman of Ferretti Group, says the acquisition provides the group channels to new markets and capital as well as other resources with which it can expand more effectively into emerging markets.
"In addition, the partnership will lower our production cost, enhance the ability of after-sales services and strengthen financial consolidation, all of which will give us competitive advantage to boost our global position."
Shandong Heavy Industry is not the only company that wants to gain overseas technological know-how as well as an international brand name.
Last year Shanghai Bestway Marine Engineering Design Co signed yacht sales and technology transfer contracts worth a total of 2.7 million euros with Italian yacht maker Fipa.
The deal enables the company, which specializes in ship design and engineering, to produce a 24-meter yacht under the brand Bestway by Fipa.
As a latecomer to the yacht market, the company is catching up with its counterparts quickly. The company has been developing yachts of over 20 meters and invested more than 50 million yuan ($7.9 million, 6 million euros) to build a 33,000-square-meter shipyard in Shanghai.
Once that is completed he expects the company will produce 10 vessels a year.
"In fact we are able to make the same boat as they do in Italy," says Liu Nan, president of the Shanghai company. "We already have two orders from our clients."
The Shenzhen-listed company acquired Medusa Interior Design of Shanghai, which specializes in European style designs, in August, aiming to tap into the industry that builds luxury yachts with European style.
"Working with Fipa, we have a better fit with the European and Chinese markets," Liu says.
The world's yacht markets, particularly those of Europe and the United States, have slowed since the financial crisis in 2008, resulting in industry consolidation, and China's yacht imports tripled from 2009 to 2010, the China Cruise & Yacht Industry Association says.
"In moving production to China, Chinese manufacturers can still make a lot from their collaborators," says Zheng Weihang, vice-president of the association. "It should be more than just providing them a lot of money and lots of markets."