Changing his tune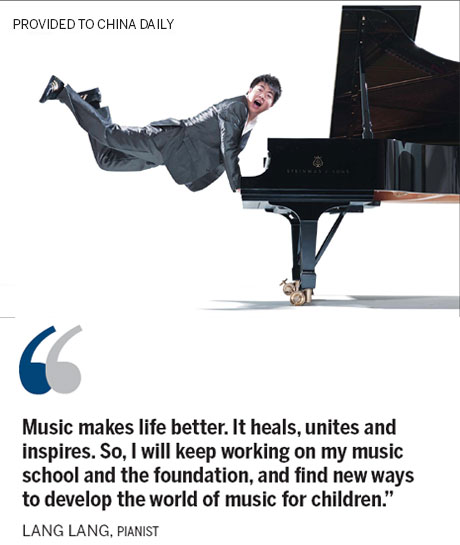 Piano prodigy Lang Lang will spend less time touring and more working on charitable and educational projects. Liu Yuhan reports.
Superstar pianist Lang Lang will slow down his tempo this year, decreasing the number of concerts from his usual 150 a year to 120 or even fewer than 100. He hopes to devote more time to helping others achieve the same music dreams he has through charity and education, he tells China Daily. "I'm turning 30 this year and - as a traditional Chinese saying goes - you stand up when you turn 30," Lang says in New York after a concert at the Lincoln Center's Avery Fisher Hall, where he played Bartok's Piano Concerto No 2 with Alan Gilbert conducting the New York Philharmonic.
The private multifunction arts complex Lang Lang Music World opened in Guangdong province's Shenzhen city at the beginning of this year. Its stated goal is to cultivate the next generation of musicians through educational programs.
"I want to ignite the passions of many other young piano enthusiasts to pursue their love for music," Lang says.
The institution has opened about 50 practice rooms, and most teachers are ready to work before student recruitment has finished.
Another branch is slated to open soon in Chongqing.
The schools follow the 2008 founding of the Lang Lang International Music Foundation in New York.
Lang hopes the foundation can inspire the next generation of musicians and financially assist youth who share his childhood dreams of music.
The foundation currently sponsors seven young scholars. Two are from Hong Kong, another two are from Europe and three hail from the United States.
It runs several children's programs, including the "Piano Masterclasses" and the "101 Pianists", in which young scholars can study under Lang, attend social musical events and cooperate with other musicians.
The foundation's executive director Leszek Barwinski says it also functions as a bridge for Sino-US cultural exchanges.
"We believe that music is a universal language, and it can open opportunities for communication, understanding and acceptance as we strive to ignite the passion of youth in music," Barwinski says.
The foundation will host the Lang Lang Charity Music Competition at Carnegie Hall in October and select two more young scholars to expand its team, Barwinski says.
Lang, who was born in Liaoning's provincial capital Shenyang in 1982, to a professional musician and telephone technician, says his passion for music started when, at age 2, he saw the Tom and Jerry episode The Cat Concerto, featuring Franz Liszt's Hungarian Rhapsody No 2.
His parents later bought him a piano that cost "half their yearly income", he says.
"Now, I hope I can help build a platform for these kids to receive systematic training in music," he says.
"There are two different types of children I want to help most. The first type are those who are very talented but lack financial support - I will do the best I can to provide the maximum of financial aid to these children until they fulfill their dreams. The second type comprises those who have fewer financial concerns but don't have access to qualified piano teachers."
The United Nations Children's Fund (UNICEF) appointed Lang as International Goodwill Ambassador in 2004 in recognition of his education and charity work.
Lang and three children ages 6-10 from the foundation appeared on Oprah's Search for the World's Most Smartest and Most Talented Kids.
Lang considers his charity and education work to be his second career.
"Music makes life better," he says.
"It heals, unites and inspires. So, I will keep working on my music school and the foundation, and find new ways to develop the world of music for children."
Lang regularly sells out recitals and concerts around the world and is the first Chinese pianist to be engaged by the Berlin Philharmonic, the Vienna Philharmonic and top US orchestras. His albums have made the top classical and many pop charts worldwide.
His album of the First and Fourth Beethoven Piano Concertos debuted in the No 1 spot on the Classical Billboard Chart. Lang is also the first Chinese artist to be nominated as Best Instrumental Soloist at the 2007 Grammy Awards.
He also performed for Chinese President Hu Jintao and US President Barack Obama at the White House State Dinner last year.
Now, he'll likely be spending more time helping underprivileged Chinese children learn to play the keys rather than mixing with the key players of international society.