Russia vote will stand: Putin aide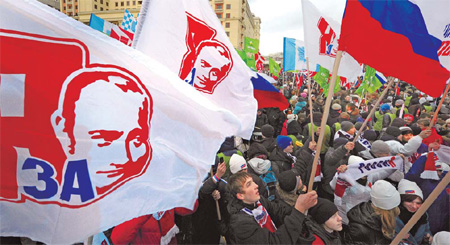 Supporters of Russian Prime Minister Vladimir Putin take part in a rally in central Moscow on Monday. Election fraud claims reported by Russia's opposition will not alter the outcome of this month's disputed parliamentary polls, Putin's spokesman said. Alexander Nemenov / Agence France-Presse

MOSCOW - Russian Prime Minister Vladimir Putin's spokesman said on Monday the results of contested parliamentary polls will stand despite street protests and a probe by the election authorities.
"Even if you add up all this so-called evidence, it accounts for just over 0.5 percent of the total number of votes," Putin's spokesman Dmitry Peskov said.
"So even if hypothetically you recognize that they are being contested in court, then in any case, this can in no way affect the question of the vote's legitimacy or the overall results," Peskov said.
His comments followed an order from President Dmitry Medvedev for election officials to look into reports of vote-fixing after the ruling party's narrow victory sparked the largest protest rallies since the 1990s.
Saturday's demonstrations near the Kremlin saw more than 50,000 people defying the outcome of Dec 4 elections that were widely seen as a litmus test for Putin's planned return to the presidency next year.
The rallies have put Putin under political pressure and suggested that his path back to the Kremlin in March elections may be thornier than originally thought.
Putin himself stayed out of the public spotlight over the weekend and was scheduled on Monday to officially launch a new reactor at a nuclear power station in the central Russian region of Tver.
But Medvedev on Sunday responded to the demonstrations by announcing the launch of an inquiry into the violation reports.
"I disagree with the slogans and declarations made at the meetings," Medvedev wrote in his Facebook account.
"Nevertheless, I have issued instructions to check all polling station reports about (failures) to follow election laws," Medvedev wrote.
Medvedev's conciliatory remarks were met by a flood of ridicule on his Facebook page and quickly rejected as insufficient by both the liberal opposition and the Communist Party, the new parliament's second-largest bloc.
"We do not trust Medvedev's words," Communist Party Secretary Sergei Obukhov said in an interview with AFP.
"The Communist Party is using every legal resource available to contest these vote results."
Rally organizers have already promised to return to the same Moscow square en masse on Dec 24 and possibly hold smaller rallies at various locations before then.
A coalition of liberal and nationalist groups on Monday asked the Moscow mayor's office to sanction the Dec 24 rally for up to 50,000 people just steps away from the Kremlin.
City authorities had until the middle of the week to respond.
Pro-Kremlin youth groups meanwhile were due on Monday to stage their own mass gathering in central Moscow under the slogan "Glory to Russia!"
In previous gatherings, Russian youth groups have demonstrated public support for Kremlin rule and the United Russia party that retained a narrow majority in parliament.
Tycoon to challenge
Russian metals tycoon and US basketball team owner Mikhail Prokhorov said on Monday he intended to challenge Putin in next year's presidential elections.
"I have made the most serious decision of my life. I am running for president," Prokhorov told reporters.
The owner of NBA's New Jersey Nets basketball team had previously made a short-lived effort to challenge Putin's United Russia party in this month's parliamentary elections.
He later resigned from his own party following an internal power struggle that he blamed on the Kremlin. The Right Cause party finished with less than 1 percent of the vote.
The Polys Gold metals miner chairman - consistently ranked as one of Russia's top five billionaires by Forbes magazine - was in 2010 estimated to have a fortune of $18 billion.
Agence France-Presse