Concerns raised over food quality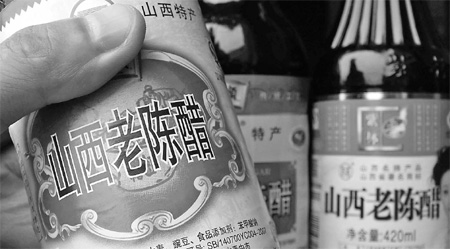 A man reads the ingredients on the label of a bottle of Shanxi vinegar (Shanxi Laochencu), which shows it contains the food additive sodium benzoate. Shanxi Vinegar Industry Association Vice-chairman Wang Jianzhong said that about 95 percent of Shanxi vinegar products in the domestic market are not genuine brewed concoctions. Soon afterward, he contradicted himself and denied what he said during an interview with the media. Liu Junfeng / for China Daily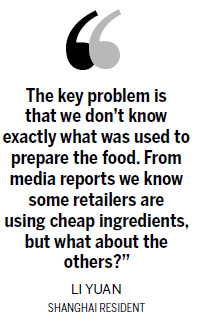 Customers complain they do not get adequate information about ingredients in what they eat
BEIJING - People are losing confidence in the safety and quality of food in China following claims that concentrated ingredients are used by some restaurants.
Industry experts are urging restaurant owners to show more respect for their customers.
It follows the controversy last month when Hong Kong-listed Japanese-styled Ajisen Ramen was reported to be using concentrated stock made from pig bones in its noodle dishes while claiming the meal was prepared using fresh ingredients.
Ajisen Ramen issued a public statement on August 12 to express sincere apologies to customers and promised to undertake more corporate social responsibility in order to ensure the safety and nutritional value of its food.
Global fast food outlet Kentucky Fried Chicken (KFC) and others were accused of using soymilk powder or concentrate as the basis of soymilk drinks in China rather than using fresh beans.
In the face of criticism, companies involved in the controversy released statements to clarify the situation.
Taiwan-based Yonho Soymilk, one of the largest soymilk retailers, held a news conference on Aug 9 in Shanghai at which it admitted 10 percent of products sold in China were made from soymilk powder.
KFC stated on its official website that its soymilk drinks are made from soymilk powder. The company said two businesses provided soymilk powder to the company: Yihaikerry and Hailong Group.
KFC emphasized that the quality of its soymilk products complied with safety standards in China.
"I've been to Ajisen Ramen restaurants in Beijing many times and liked the noodle bone soup very much. But, since I saw the media report of the company using bone concentrate to make noodle soup I thought it was so disgusting that I decided not to go there again," a netizen called Da Hui Tuzi Hao posted at www.dianping.com.
"We paid 5 yuan ($0.80) or 6 yuan for a cup of soymilk drink and then we are told it is made from soymilk concentrate or powder. We can understand it will be difficult for stores to prepare soymilk from beans, but at least KFC should state clearly the drink is not freshly made from soybeans," said Li Yuan, from Shanghai. The cost of a cup of soymilk drink made with soymilk powder is less than 1 yuan, reliable sources told China Daily.
Lin Ping-sheng, president of Yonho Soymilk, promised to state the ingredients clearly on the company's products in future. He was quoted by media as saying that soymilk powder will be used in all stores in China in the future.
Small restaurants in China have long being criticized for the low quality and unhygienic processes in their food preparation. Chinese customers have traditionally held higher expectations of foreign fast food restaurants.
Customers tend to believe strict control processes can eliminate problems and improve food quality. However, the recent controversies have brought about doubts whether it is worthwhile paying a premium for products made with concentrates. Many are demanding that restaurants reveal more information about ingredients to customers, industry experts say.
"The key problem is that we don't know exactly what was used to prepare the food. From media reports we know some retailers are using cheap ingredients, but what about the others?" asked Li.
China Consumers' Association (CCA) has called for restaurants to reveal more information to customers to protect their rights.
"Customers may have high expectations of the quality of food and raw materials at branded outlets, so these restaurants should reveal more information to them," said the CCA in a statement released on Aug 5.
"Foreign-styled fast food has taken a big market share in China. The managers should be aware that not only an advanced management system contributes to success: The trust of customers also helps business growth," said the CCA. "Restaurant operators should pay more attention to building their credibility so as to establish a solid customer base in China".
Fan Zhihong, associate professor with the College of Food Science and Nutrition Engineering at China Agriculture University, said soybean milk powder contains CMC, an additive commonly used as a thickening agent. It makes powder-based soybean milk more creamy.
Some soybean milk powders and concentrates also contain non-dairy creamer that contains a large quality of saturated fatty acid, which can be deleterious to people's health if consumed in excess over a long period.
"As a traditional Chinese food, soybean milk has been drunk for thousands of years but there is s a lack of unified food safety standards covering it, making it impossible for consumers to know how safe and healthy freshly ground or powder-based soybean milk is," said Xu Lu, a nutritionist who also works as a health consultant for young people.
"Nowadays, many manufacturers and food stores claim they have introduced advanced technology when preparing powder-based soybean milk but it's still difficult to tell the specific nutrition level."
According to available information, the soybean milk powder used by KFC and Yonho Soymilk is safe and meets national food safety requirements, although its nutritional value may be lower than freshly ground soybean milk, said an official from Shanghai Food and Drug Inspection Institute.
Wang Hongyi contributed to this story.
China Daily
(China Daily 08/15/2011 page16)