Consuming passion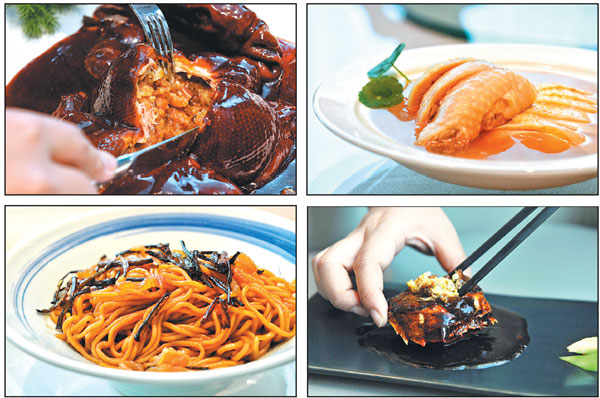 Wulixiang Restaurant's signature dishes include (clockwise from top left) eight treasures stuffed duck, drunken chicken, stuffed-and-fried crab, and scallion oil noodles. [Photo provided to China Daily]
A Beijing restaurant specializing in old Shanghai cuisine is reviving interest in disappearing dishes deemed too difficult to prepare. Li Yingxue reports.
Some traditional Shanghai dishes can often be difficult to find at restaurants even in Shanghai, but luckily they are enjoying something of a renaissance at one restaurant in Beijing.
"Wulixiang", a phrase in the local Shanghai dialect which means home, is exactly what founder and chef Zhu Haifeng has called his restaurant.
With more than 20 years' experience in the kitchen, the Shanghai chef started Wulixiang as a private kitchen in Xiezuo Hutong four years ago, to bring a taste of the lanes and alleyways of authentic old Shanghai to Beijing.
With only one waitress to help with serving, Zhu took care of the entire cooking process, from shopping at markets to developing the menus. His meticulous selection of ingredients and precise cooking skills soon garnered him many fans.
"I was happy to be busy cooking all day, but then I realized that my dream of reviving Shanghai cuisine would hardly come true if I continued running a small kitchen," Zhu says.
In August this year, Wulixiang restaurant opened on the ground floor of Pacific Century Place, in the center of Sanlitun. The new restaurant, with a 40-seat dining room, is equipped with three private dining rooms, along with a dedicated bar and wine cellar.
"In the face of so much creativity and innovation in today's restaurant scene, many old dishes are being forgotten," says the 45-year-old.
"I want to make sure that these dishes are passed down to the next generation, no matter how intricate the cooking methods are, or how specific the ingredients."
Now with a cooking team handpicked by Zhu, he has more time to focus on researching and experimenting with old Shanghai dishes.