A taste of Baotou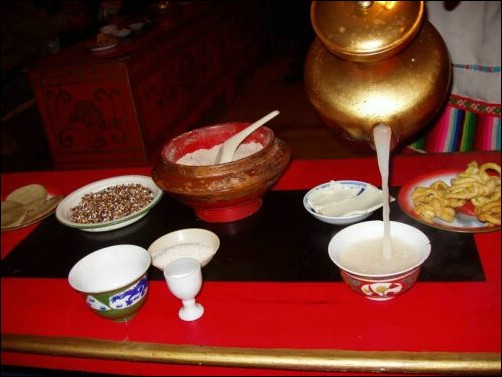 Ghee is essence kind of liquid butter, with important nutrients, and was only used in the past for honored guests or important festivals in the Inner Mongolia region. [Photo/Weibo.com]
Ghee is essence kind of liquid butter, with important nutrients, and was only used in the past for honored guests or important festivals in the Inner Mongolia region. It was referred to as "tihu" in ancient times, meaning "fine butter". During the Yuan Dynasty (1271-1368) it was one of the "eight northern dainties" and a treasured delicacy.
The production method demands a lot: first, filtering fresh milk through gauze several times, then fermenting it so that it resembles yogurt. Two pots of fresh milk are then boiled and mixed with the yogurt in a large container, with a large stick used to stir the mixture until the cream comes to the top.
The cream is transferred to another pot and water is poured into the cream to produce a milky mixture, which is then squeezed to remove the water. It can be put in cold water to harden. When the cream is separated from the milky mixture, the ghee is ready.
It takes about 50 kilos of milk to produce only two or three kilos of ghee. People often keep the ghee in a tightly sealed kitchen container or in clean goat intestine. If they need to store it a long time, it is best to keep it in a freezer.
The ghee can be spread it on hot steamed buns, put in milk tea, or served with western style food. Its unique taste is impressive.