Georgia's Caucasus wines ready for China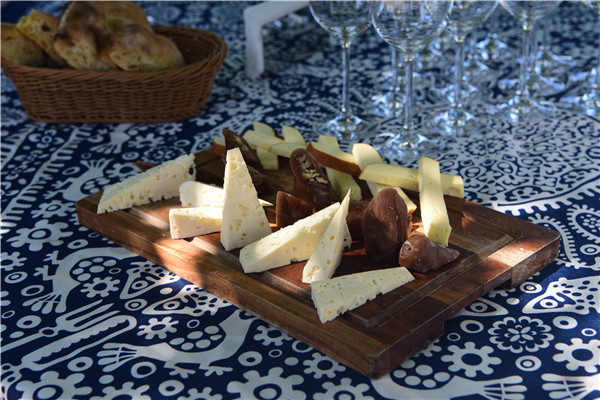 Fresh-milk cheeses and sweets made from grape must are popular snacks with wine in Georgia. [Photo provided to China Daily]
If you are an oenophile, the names of wines from the Caucasus land of Georgia may start coming to your lips more quickly as the country makes a big new push into China. Mike Peters reports from Tbilisi.
The "houses" were crude shelters shaped out of rammed earth. Life was pretty simple back in the 6th millennium BC, but in those days the tribes of what is now Georgia were making the first strides toward modern agriculture, growing cereals and grapes. The earliest evidence of winemaking has been found there, dried pips and wine "must" in 8,000-year-old jars made of sun-dried clay.
Since then, the fertile valleys of the South Caucasus mountains have been producing some of the world's most iconic wines-with names that are musical but a challenge to pronounce, like the popular white grape variety rkatsiteli (kat-sa-telly). Georgia not only claims the oldest winemaking but the largest number of indigenous wine grapes, more than 500. Many of the intriguing names are based on the various grapes' shapes and colors (mtsvane, another fabled white grape, is the word for "green").
The fact that you may have never heard of them is a reflection of regional politics: Few countries have been invaded and conquered by so many. The small country sits at the crossroads of Europe and Asia, hugging the eastern coast of the Black Sea, south of Russia and north of Turkey. Waves of conquerors included Arabs, Persians and Russians, and by Soviet times the region's acclaimed wines were mostly consumed in the USSR.
Lately, Georgia has been eager to diversify its market, reintroducing its wines to Europe, where they were once favored by the ruling houses of Europe in medieval times.