Chef brings new twists to Beijing grill fare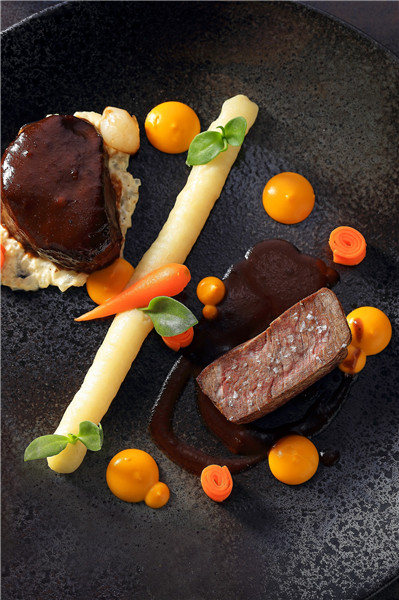 Duo de Beef. [Photo provided to China Daily]
Grill 79, China World Summit Wing's 79th-floor Western restaurant, now offers fresh caviar for the first time as chef Deivid Paiva takes over the kitchen. Guests can savor premium Imperial Beluga caviar, famed for its pearly gray eggs, full body and rich, creamy flavor. The restaurant also offers a caviar tasting tray, with an array of Siberian, Amer, hybrid and Russian varieties of caviar to give guests an overview and a sampling of this prized roe.
The caviar offerings are just part of Paiva's shake-up of a menu that previous was all about big hunks of meat. There were so many steak options that diners struggled to make choices, he says, so he's streamlined the meat list to the best cuts and added breadth with options like caviar and premium seafood.
The refreshed a la carte menu is designed to "use fresh herbs to create invigorating and memorable flavors," he says. "When you respect every vegetable and meat that goes into your kitchen, even as underrated as a carrot, only then can you call yourself a true cook."