Black Yak brewers grab a silver medal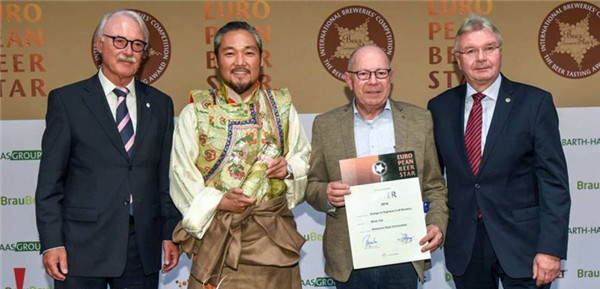 Songtsen Gyalzur (second from left), CEO and founder of Shangri-La Beer, at the award ceremony in Germany. [Photo provided to China Daily]
Brewed with highland barley and black caramel malts, Shangri-La Brewery's Black Yak is a dark beer with a hint of chocolate and roasted coffee beans. The intriguing name and robust taste have drawn crowds at beer festivals around China, and more recently won a top accolade in Europe.
Black Yak won the silver medal in the Bohemian-Style Schwarzbiercategory at the recent European Beer Star 2016, the company announced last week in Kunming, the capital of Yunnan province.
The brewery is run by an ethnic Tibetan team and a German brewmaster in Yunnan's Shangri-La. Mixing traditional recipes with a 21st-century craft twist, the beers are made with Tibetan highland barley, pure Himalayan mineral water, fine German hops and Belgian malts.
Songtsen Gyalzur, CEO and founder of Shangri-La Beer, attended the Nov 9 award ceremony at BrauBeviale in Nuremberg, Germany. He says that Shangri-La Beer is very proud of the award as "it is the aim of every ambitious master brewer to win a medal at the European Beer Star".
He launched the company after returning from abroad in 2015, eager to put his education to work for his community. He had developed an affinity for local craft beers while in Europe, and realized that there was nothing like that in his home region.