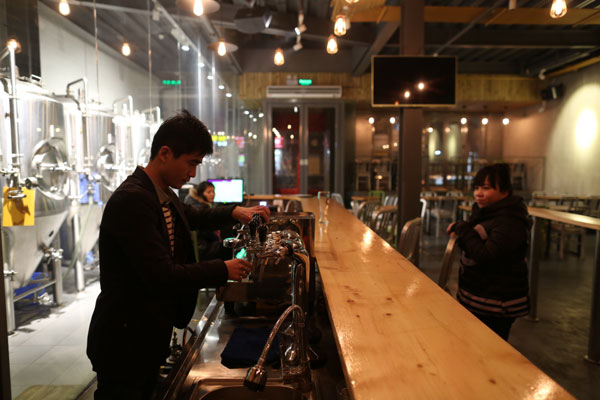 Staff members at Panda Brew Pub in Beijing prepare before the pub's opening. [Photo by Wang Jing/China Daily]
The newest face of craft beer in Beijing is making a furry splash.
Panda Brew Pub-with its feisty-eyed mascot on the logo and labels-currently serves about eight ales in the American, British and Belgian styles. The setting is dramatic: Huge metal tanks loom on the right side of the wall at the entrance. The pub has two floors, each high-ceilinged and covering about 200 square meters, as well as a roof terrace for sipping al fresco when the weather warms up.
Metallic chairs, wooden tables, steel door frames and gray concrete give an industrial factory feel to the whole space.
The Too Young Wheat (35 yuan or $5.60) flaunts a bright yellow appearance and carries a strong fruity aroma and sweet taste, which makes it a pretty comfortable choice for Chinese drinkers as well as foreign beer fans. It's easy to swill and a treat for those who don't fancy bitter beer.
The Too Naive Pale Ale (38 yuan) is an acquired taste for me, because I'm not a fan of the sharp hoppy taste of pale ale. The strong bitterness hits on the palate in a flash after the initial sweetness fades away. It looks clearer than the Too Young Wheat.
It takes about 20 days to make these malt beverages.
A surprise was the black British Too Old Stout (45 yuan), which requires more than a month to prepare. Coffee and chocolate flavors mingle on the palate with a hint of sourness, which is rapidly masked by fruit when the beer is allowed to sit in the glass for a bit.
The Too Fool India Pale Ale (55 yuan), branded as the most bitter of all at the pub, was actually easier to drink and more pleasant for me than the Too Naive Pale Ale.
Tang Dynasty barley wine (75 yuan) is the most expensive. It has a soy sauce kind of taste. The Belgian-style beer boasts twice the amount of raw materials of the other beers. Brewing lasts for two months. It's 10-percent alcohol by volume.
The Pure Red Honey Ale is the pub's most popular offering. It's the only beer that contains honey.
Guests can order a flight (75 yuan) of five small cups to sample what the pub offers.
A garden-variety food menu nicely complements the panoply of beers. Patrons can choose from fried chicken wings covered in six different sauces, french fries, spring rolls, sandwiches, pasta and pizza.
Live performances are held two nights a week.
A shared interest in craft beer brought together founders Xia Yu and Pan Dinghao. They started with a very small homebrew business at the beginning of 2013. By the end of that year, they were selling bottled Panda beers, though that decision cost the team its third founding partner, Han Xiaopeng, who is now making draft-only beer elsewhere, according to local media.
"Our bottled beers have been sold in wine bars, cafes and upscale restaurants in 31 cities across China," says Xia.
After the success of the bottled beer, Xia and his friend opened the pub's former location in October last year to boost the Panda brand. The brand-new pub is immense by comparison.
"Genuine beer should carry a multilayered and lush taste, rather than the watery and bland flavor of most industrial beers," says Xia.
Good beers also need quality ingredients and patience. The pub's major ingredients, such as yeasts and hops, are all imported from abroad, Xia says.
"I only want the best ingredients for making my own craft beer, and I'm not afraid of taking time and trouble in the brewing process," says Xia.
Foreigners are major consumers of craft beers in China at the moment, Xia adds.
"But we see the Chinese are warming up to craft beers, thanks to their distinctive flavors."
The beers available at the pub are all developed by trial and error to ensure optimal taste.
"The fun of making craft beer is that we get to decide which flavor should be the best according to our palates," says Xia.
Mike Peters contributed to this story.
If you go
Panda Brew Pub
6 pm-2 am daily. 14 Dongsi North Street, Dongcheng district, Beijing. 010-6408-7922.
The pub is less than 200 meters south of the Beixinqiao station on the subway line 5.