Ningxia wineries mix high and low tech at harvest time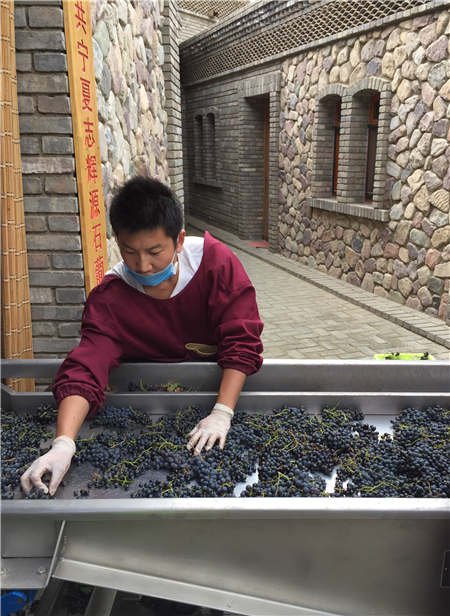 A winery worker sorts grapes by hand at Chateau Yuanshi in the Ningxia Hui autonomous region. Mike Peters / China Daily
It's showtime at Changyu Moser XV, the Ningxia chateau operated by China's biggest wine producer. Production at corporate giant Changyu's other facilities across China is vast. Here, the scale is smaller, in a quest to make several wines of serious export quality.
The Delta Oscillys machine before us is enormous, a long metal monster that can suck more than 1,100 grapes a second into a narrow maw. As they fly through, camera sensors zero in on each one, instantly appraising the grape's size, color and density against a computer-programmed standard. Fruits that don't measure up are zapped like lightning by lasers from above, so they fall into a reject bin instead of shooting ahead to the presser.
The rejects won't be discarded or fed to pigs, the operators assure us. They will simply be diverted to more commercial-grade wines that the company produces. The "chosen" grapes for more select wines will be gently crushed - to break the skin and mash the fruit a bit. But the pressure cannot crush the seeds - that would impart too much bitterness as the initial fermentation begins.
There aren't as many rejects as you'd expect: There are six people lined up alongside the conveyor belt at the front of the machine, sorting out obvious duds by hand.
Our small group, led by professor Gang Jin of Ningxia University, moves on to visit several other wineries. I'm eager to see Chateau Yuanshi (Zhihuiyuanshi). While most Chinese wineries are replicas of French chateaux if not actual castles, Yuanshi's sweeping low-slung architecture is right out of the Song Dynasty, built with locally quarried stone.
Gang also stops at Chateau Mihope, a new winery operated by the Meiyu wine company. It's an impressive facility - the chandeliers of the reception room are just a few meters from the massive silver fermentation tanks on the other side of a glass wall. Its first vintage is virtually sold out.
The two wineries we visit the next day are a contrast in extremes.
Xixia King, the oldest producer in Ningxia, has an immense footprint below Helan Mountain. The vineyards were planted in the 1950s by People's Liberation Army soldiers. The company produces a range of wines and even beer.
Our last stop is Pushang, a small family winery that specializes in Marselan grapes and wines.
"It's distinctive for the floral aroma, smooth tannin and black-fruit flavor," says Jiang Jing, who runs the place with her husband. "We add 10 percent cabernet sauvignon for more tannins and structure."
Marselan is getting some buzz as Chinese winemakers look for a grape that will set them apart from the global dominance of cabernet sauvignon, but Pushang may be the first to stake its reputation on those wines.