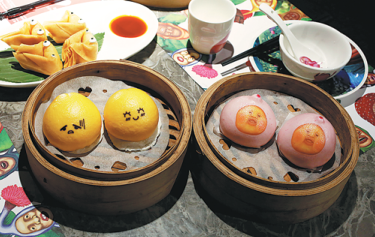 Chocolate buns, milk custard buns and deep-fried dumplings are displayed at Dim Sum Icon restaurant in Hong Kong.[Photo/Agencies]
At Dim Sum Icon in Hong Kong, diners are encouraged to play with their food.
Squeeze the lactating and defecating steamed dim sum bun with coconut cream inside, made to resemble one of the popular Japanese Kobitos characters, and you're in for a "hilarious" experience, customers say.
But far from grossing people out, Ray Kuo, assistant manager at the restaurant, says it's one of the most popular items on the menu.
"Actually we got a lot of good reviews from them," Kuo says. "That is the main one they post on Facebook and Instagram."
Another crowd-pleaser is a pooping Gudetama, the lazy yellow egg character from Japan's Sanrio, and a cartoon turd made out of cake.
The restaurant uses Japanese animations, such as the Kobitos by Toshitaka Nabata and Gudetama, but switches the main theme up every few months in addition to alternating menu items.
"We don't want the old traditional Chinese style of dim sum, so we want make it more fashionable," Kuo says, emphasizing the restaurant's appeal to teenagers and a "younger crowd".
Dutch exchange student Lineke Schrigver says she knew about the restaurants from social media before even setting foot in the city and happened to walk by it.
"I have seen it on Facebook and on Instagram already before I came to Hong Kong, but I didn't know this was like a famous thing or anything," Schrigver says. "I was like, I want to go there."
Schrigver says the food was "hilarious" but "really tasty".
A tourist from Taiwan, Miss Su, who had just arrived in Hong Kong, says her family had first eaten at a traditional dim sum restaurant but were disappointed.
"I think it is a novelty and special so I wanted to have a try," Su says. "And it does taste really good, cute and tasty."
Kuo explains that everything has been cleared with the copyrights holder, with a percentage of the profits going to the animation companies.
Dim Sum Icon opened its first restaurant two years ago and a second at the end of December. They are already in negotiations to open stores in the mainland and Macao, the company says.