The future of China's grain security will be decided by sustainable farming methods and advanced technologies.
That is why Monsanto Co is deploying more resources in the country to remain robust growth, said Juan Ferreira, the company's vice-president of global crop protection and microbial solutions.
Modern farmers need to make around 40 decisions per season, and they are increasingly looking for effective, data-driven, personalized and season-long solutions to help them do so.
In the past, such decisions were made largely on the basis of teachings passed down by tradition, but St. Louis-based Monsanto is now going through a digital transformation and setting to introduce a number of data-science driven digital tools and integrated solutions to agriculture over the next decade.
With a history of 115 years, Monsanto Co has headed down its journey from chemical company, biotechnology innovator, to seed maker and recently has begun to look beyond seed for answers.
In 2013, Monsanto bought a weather-data startup The Climate Corporation for $930 million, which has been a division of Monsanto today.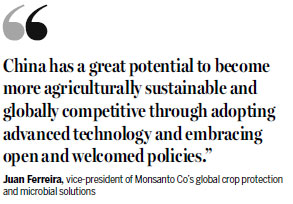 Ferreira said data science technologies would give farmers a deeper understanding of their fields so they can make more informed operating decisions to maximize yields, increase efficiency and reduce risk.
Through mobile devices and web software, data science will collect and process all relevant information regarding important factors such as weather, soil and seed genetics condition, and translate them into a database which can help farmers make faster and better informed decisions.
Digital agriculture, also known as precision agriculture, satellite farming or site specific crop management, has endowed the industry with a new set of problem-solving tools together with plant breeding, biotech, chemistry, microbials and biologicals, and allowed farmers to adjust their planting and fertilizing activities down to the square.
The adoption of The Climate Corporation's Climate Field-View digital agriculture platform has reached more than 92 million acres in the US this year, increased from 75 million acres in 2015.
The near-term global expansion of Climate FieldView is expected to expand in-field beta in Canada and Brazil for 2017.
The company sees data science business as a significant global opportunity mid-to longer-term and is working now to understand unique farmer needs and data availability in different regions.
"China has a great potential to become more agriculturally sustainable and globally competitive through adopting advanced technology and embracing open and welcomed policies," Ferreira said.
China has the world's largest agricultural output, but it faces a severe shortage of arable land as a result of urbanization, industrialization and climate change, according to a study by the Beijing-based Chinese Academy of Agricultural Sciences.
In addition to coping with environmental issues, China must also feed a growing and increasingly wealthy population that is demanding better and more nutritious food.
The country will need to feed 1.45 billion people amid a drive for more sustainable economic growth that focuses on quality over quantity and emphasizes environmental stewardship and equity.
China Seed International Seed Co Ltd, a joint venture invested by China National Seed Group and Monsanto for conventional corn seeds increased its registered capital to 483 million yuan ($72 million) and the scope of total investment to 1.44 billion yuan in 2013, is currently operating five breeding stations and three processing plants.
Through the joint venture, Monsanto became the first multinational company in China to open its global corn germplasm pool to such a joint undertaking.
In addition, to meet Chinese consumers demand for a wider variety of high-quality vegetables, the world's largest vegetable seed brands of Seminis and De Ruiter, fully owned by Monsanto, have around 10 crops and 200 products commercialized in China.
Ferreira said Monsanto has long been engaged with collaborations with Chinese farmers, researchers, nonprofit organizations, universities and others to find sustainable solutions to increase yield, overcome resource scarcity, and minimize damage from pests and disease.
The company has established closer ties with top Chinese universities and public institutions, offering joint research and development capabilities, generating joint intellectual property, and helping bring Chinese innovation to the world.
Monsanto also donated 18 million yuan in China through local nonprofit partners or directly between 2002 and 2016, mainly in the fields of providing material assistance to farming communities in rural areas, basic education support, disaster relief and scholarships to local talents.
Not just China, the world as a whole is facing an unprecedented set of interrelated challenges - economic, societal and environmental-where agriculture is at the center of global trends.
The demand for food is rising and the current level of food production must double to adequately feed a world population predicted to hit 9.7 billion by 2050. Environmental concerns, however, dictate that food production must rise by using less land, water and other resources.
Ferreira, who is responsible for the company's global crop protection and microbial solutions, said the challenges are too huge for any single country or organization to tackle alone, adding that the only way to nourish the world population is through technological advancement and collaboration, including international and cross-border investment in agriculture.
"The world population is growing, but the arable land, water and other resources are not." We must increase the productivity on per acre of arable land in a sustainable way and in the meanwhile protect the environment.
"To achieve this objective, we have to rely on innovations and collaborations," Ferreira said.
"The undertaking is more than money. Equally important are expertise, experience and technical know-how."
To this end, collaborative policies and science-based regulations will help attract international investment and bring tremendous value to a country's farming productivity. It will reduce costs, increase farmers' incomes and protect the environment.
Products developed by the BioAg Alliance - a business alliance created by Monsanto and Danish company Novozymes to boost crop yields through naturally-occurring microbes, were being used on around 65 million acres globally as of January.
Both companies anticipate that their solutions will be used on between 250 million acres and 500 million acres globally by 2025.
The agricultural market for microbials is estimated at $1.8 billion, while the market for traditional fertilizers and pesticides totals $240 billion.
Over the past few years, Monsanto has worked hard to be more involved in conversations with public about topics including food, agriculture and climate change.
"We've invested in communication and outreach so that people can get information directly from Monsanto and ask questions they may have about our company and our role in the food chain," Ferreira said.
Tian Hui, a professor of food security and grain trade at China Agricultural University in Beijing, said collaborating with international companies will not only elevate a nation's global competitiveness in agriculture sector, but also reduce excessive use of fertilizer and pesticides, offer more food choices at more affordable prices.
"As the Chinese government wants to make good use of both domestic and foreign resources, the participation of foreign companies will also encourage domestic companies to be more innovative," said Tian.
"When local companies become bigger and more competitive, that will give the government the confidence to eventually modify the policy, and therefore allow foreign companies to increase their investments, patent technologies, talents and new jobs in China," he added.
zhongnan@chinadaily.com.cn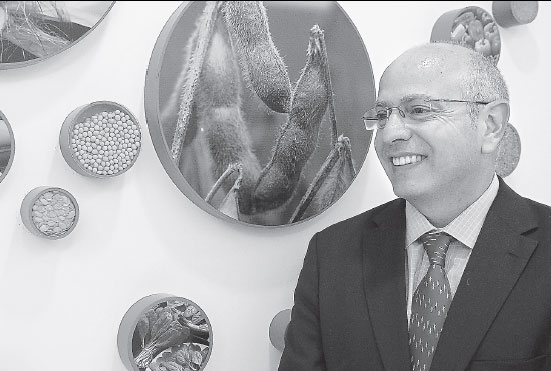 Monsanto Co will work with farmers, researchers, nonprofit organizations, universities and others to seek sustainable solutions for soil health and farming practices. Zhang Wei / China Daily
(China Daily 08/04/2016 page14)