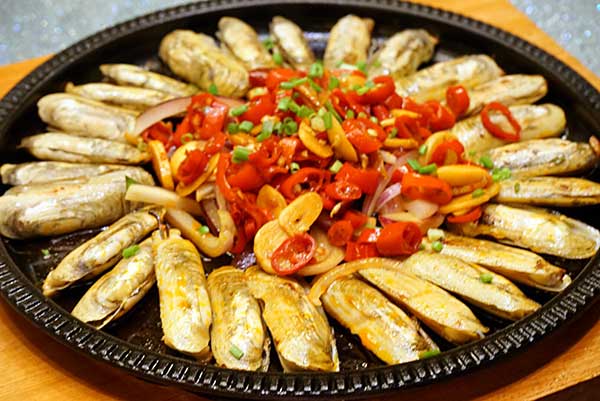 [Photo provided to China Daily]
The dish uses no seasonings except salt, and seems easy to prepare - just marinate whole sea crab that has been washed in salt water, and put the mix in a refrigerator for two to three days, then cut the crab into smaller pieces to serve.
The quality of the crab, however, is very important, and only the freshest crab can make delicious yanxie that tastes savory and freshly sweet, You says.
Another dish, called zui ni - luo, literally drunk mud snail, is equally famous in Ningbo, and canned snails prepared this way are very popular among Ningbo natives away from home, You says.
The dish is made with a crustacean called "mud snail" that is usually found in southern China. Ningbo people often marinate mud snails in Shaoxing yellow wine for about three days to eat.
The mud snails are best to eat when they are as small as a teenager's fingernail. Their crystal shells are easy to remove, and the soft meat inside is deliciously meaty while the hint of wine flavor helps cover the "muddy" taste, You says.
Another dish I liked is fried yellow-fin tuna and tofu-skin rolls, a dish made by deep-frying. The magic of the dish was that the tofu skin outside was crispy and savory, while the fish inside was tender and fresh with a slight sweetness.
The chef says the secret is in the tofu skin: He wraps deboned fish in dry tofu skin to deep fry in hot oil briefly with a few seasonings, including salt and shallot, so that the tofu skin will become crispy and block excessive heat from damaging the fish texture and taste.
Another dish I liked a lot was wine-marinated pork belly. It is first boiled and then marinated in wet distilled grains of Chinese rice wine for a day or two, resulting in a meaty, moist texture and a pleasant wine flavor.
The soup made with small yellow-fin tuna and salt-pickled vegetable was also very tasty, and I finished with the pleasing Ningbo tangyuan, a sweet dessert of rice balls stuffed with sesame and sugar.