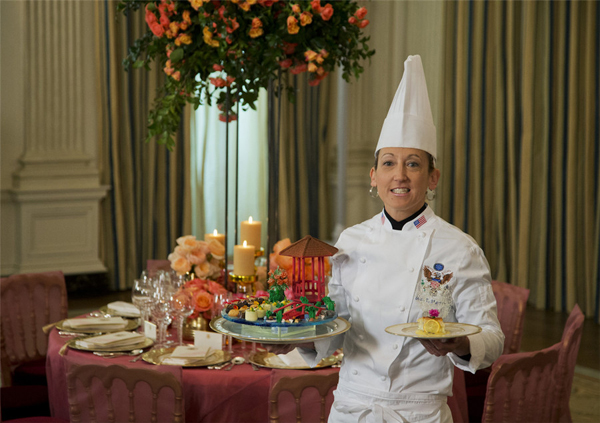 White House Executive Pastry Chef, Susie Morrison, shows the dessert called "a stroll through the garden" and a lightly buttered artisanal bread accented with a delicate egg custard including a Meyer lemon curd and lychee sorbet, during a preview in the State Dining Room of White House in Washington, Thursday, Sept 24, 2015, for the state dinner of the visiting Chinese President Xi Jinping. [Photo/IC]
WASHINGTON - White House chefs have created "original dishes that highlight American cuisine with nuances of Chinese flavors" for the state dinner honoring visiting Chinese President Xi Jinping, the White House said Thursday.
At Friday's state dinner, the tenth one hosted by the Obama administration, guests will have a taste of, among other dishes, butter poached Maine lobster and grilled Colorado lamb, as well as a dessert display that features a Chinese-style chocolate pavilion and bridge.
Traditional Chinese Shaoxing wine will also be served as guests enjoy their starter -- wild mushroom soup with black truffle, according to the official menu provided by the White House.
"The state dinner is the key part of President Xi and (his wife) Madam Peng (Liyuan)'s visit to the United States," Dan Kritenbrink, senior director for Asian affairs with the White House's National Security Council, told reporters, adding that it allows Obama to reciprocate to the "tremendous hospitality" that he and his family received in China last year.
The state dinner will also provide an opportunity for US and Chinese officials to continue the important discussions that are expected to take place earlier in the day, Kritenbrink said.
The decor for the state dinner, which will be held in the East Room of the White House, combines the artistry of Chinese and Western aesthetics, demonstrating a deep respect for both Chinese and American architecture and landscapes, according to the White House.
The rose, a calligraphic representation of the flower that is precious to the East and West, serves as the emblem of the state dinner.
Upon entering the dinner, guests will be entertained by the Sphinx Organization String Quartet. NE-YO, a Grammy award-winning singer, will perform at the State Dining Room after the dinner.
Xi began his first state visit to the United States Tuesday after he assumed the Chinese presidency in 2013, a landmark trip aimed at building up trust and stepping up cooperation between the world's two largest economies.