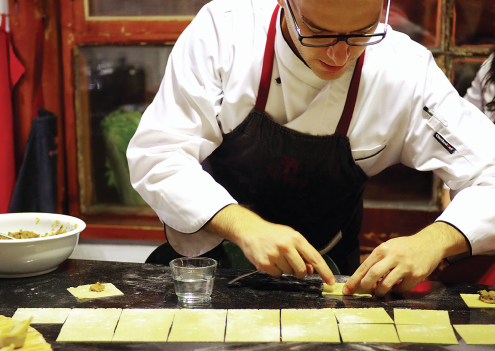 Filippo Fiori demonstrates how to fill and fold ravioli at a homemade pasta class in Beijing. [Photo provided to China Daily]
One might expect a nuclear engineer with a love of cooking to focus on the science-heavy techniques known as molecular gastronomy, but Filippo Fiori's passion is for the traditional cuisine of his native Italy.
Fiori, 30, was born in the small town of Lari in the countryside between Pisa and Florence in the Tuscany region, with a population of about 1,000 people. He has always been interested in food-perhaps, he says, because his father often spoke of having been a cook in the army-and started working in restaurants at the age of 16.
Five years later, he first left Italy for London, where he spent a summer working as a waiter and bartender while improving his English skills. He continued working in kitchens and dining rooms while studying for his bachelor's and master's degrees in nuclear engineering at University of Pisa.
"When I was 22, I took a summer job as a baker. I grew up with a wood-fired oven at home so it was normal to bake bread at least once a week and pizza at least every two weeks," Fiori says.
He currently shares those skills with students at The Hutong, a popular cultural events center in central Beijing, where he averages about six classes a month, most of which are quickly sold out.
At his pizza and fresh pasta classes, his passion for food, people and storytelling are immediately obvious as he shares the origins of the craft.
He says his then girlfriend, Janet Ng, a Malaysian-Chinese who also has permanent residency in Australia, suggested he start teaching as he was cooking too much at home.
"Janet got fat that summer and then she said, 'I'll stop eating bread now'," he says, smiling.
"Before it was baking, which is a very technical class-a master class I would call it. But now I enjoy sharing the culture the most, telling stories. There's a series of classes called 'Taste of Italy' where I try to bring people to different parts of Italy. I hope that people see me as a storyteller."