Nanjing's king of hops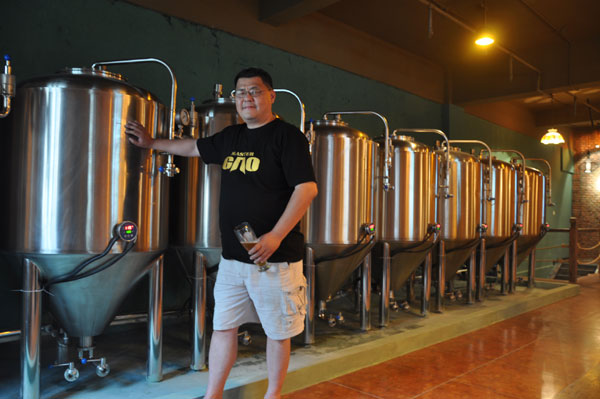 Gao Yan, founder of Nanjing Craft Brewing Co, has more than 20 categories of beer under his Master Gao brand. Each features typical Chinese elements in tastes and packaging. [Photo provided to China Daily]
A craft brewer has helped spread his own craving for specialty beers across China. Xu Lin reports.
Gao Yan, 46, never expected his love of craft beer to make him a pioneering brewer in a fast-growing market in China.
"The charm of craft beer is that it is very tasty, and you can change its flavor as you wish to fulfill your desire of creation and give you a sense of achievement," says Gao, the founder of Nanjing Craft Brewing Co.
He now has more than 20 categories of beer under his Master Gao brand. Each features typical Chinese elements in tastes and packaging. The current annual output is nearly 100 tons, which is equal to about 1 percent of that of a small beer factory, he says.
When he first started to make his own beer at home, he used some Chinese ingredients, such as ginger and dates, to do simple trials. Later, he developed more complicated beers with jasmine and Tibetan barley.
Last year, he developed Baby IPA and cooperated with a beer factory to produce bottled craft beer.
It's as sweet as oranges with a fine white foam as smooth as the skin of a baby. The illustrated label on the bottle sports a chubby infant holding a big carp in his arms, which is a common image for the Lunar New Year.